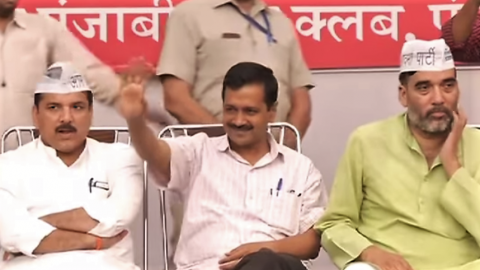 The Delhi unit of the Aam Aadmi Party held a state convention on 21st May in the presence of National Convener Arvind Kejriwal and newly appointed Delhi Convener Gopal Rai. During this convention, the party announced an organisational restructuring, by introducing the new role of a mandal adhyaksh for each Polling Station. Each Polling Station has multiple polling booths, each of which will be headed by a kshetriya adhyaksh.
Gopal Rai also launched the 'Mera Booth Sabse Majboot' campaign at the State convention. He said, "Mera Booth Sabse Majboot campaign has to begin with each one of us. All of us will take the responsibility of strengthening the organization in our respective booths. We have to reach people directly."
Every person associated with the party, whether it is the Chief Minister of Delhi, other Ministers, MLAs, Councillors or party office bearers, will have to take charge of organisational building in their respective polling booths. There will be an effort to encourage a dialogue within and outside of the organisation through this structure, combined with building of an ongoing communication channel with the Delhi government.
If you want to connect with this effort, reach out to us:
Call Helpline – 8588833557
Email – aapdelhiconvener@gmail.com
When expressing your views in the comments, please use clean and dignified language, even when you are expressing disagreement. Also, we encourage you to Flag any abusive or highly irrelevant comments. Thank you.