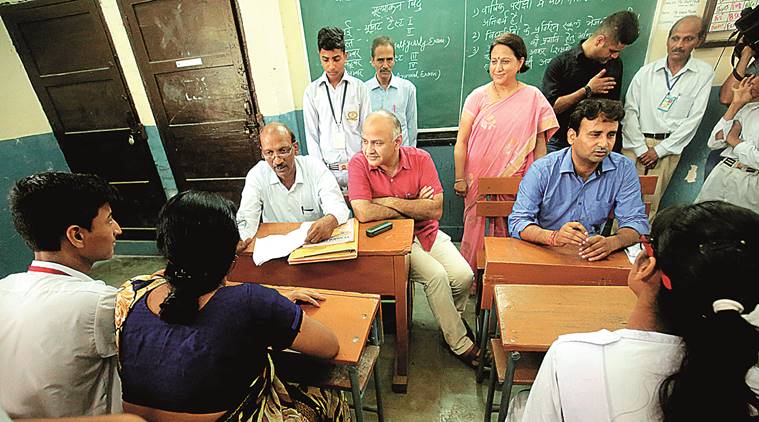 AAP government is launching 'Parent Workshops' for parents of children studying in government schools. The first set of workshops will begin from 15 November onwards in 50 schools across the city.
Initially, the workshops will only be conducted for parents of children appearing for Class 10 and 12 Board examinations, at the school in the evenings. A full-fledged roll-out of this program is set to take place from January 2018.
Launching this initiative, Deputy Chief Minister, Shri Manish Sisodia said, "The involvement of parents in the education of children makes a significant difference to their performance. Our government has worked on many fronts like improving school infrastructure and upgrading the quality of the classroom experience. The 'Parent Workshops' are aimed at working with parents to help create the right kind of environment even in children's homes. Especially for children studying in Classes 10 and 12, parents will be sensitized on how to play a supportive role with children to reduce their stress."
The AAP government has made parents involvement a key component of its education-related reforms. The strengthening of School Management Committees (SMCs) has helped to mobilise and activate parents to play a serious role in the functioning of the schools. More importantly, Parent Teacher Meetings were started since July 2016, which has improved the parent-teacher engagement to a large extent. The results of these interventions have been seen in the performance of children over the last two years.
The AAP government aims to reach out to parents through these workshops so as to bring them on the same page as the school and the teachers. Parents will be oriented about their children's education and what their role should be towards ensuring that children learn better at school.
When expressing your views in the comments, please use clean and dignified language, even when you are expressing disagreement. Also, we encourage you to Flag any abusive or highly irrelevant comments. Thank you.