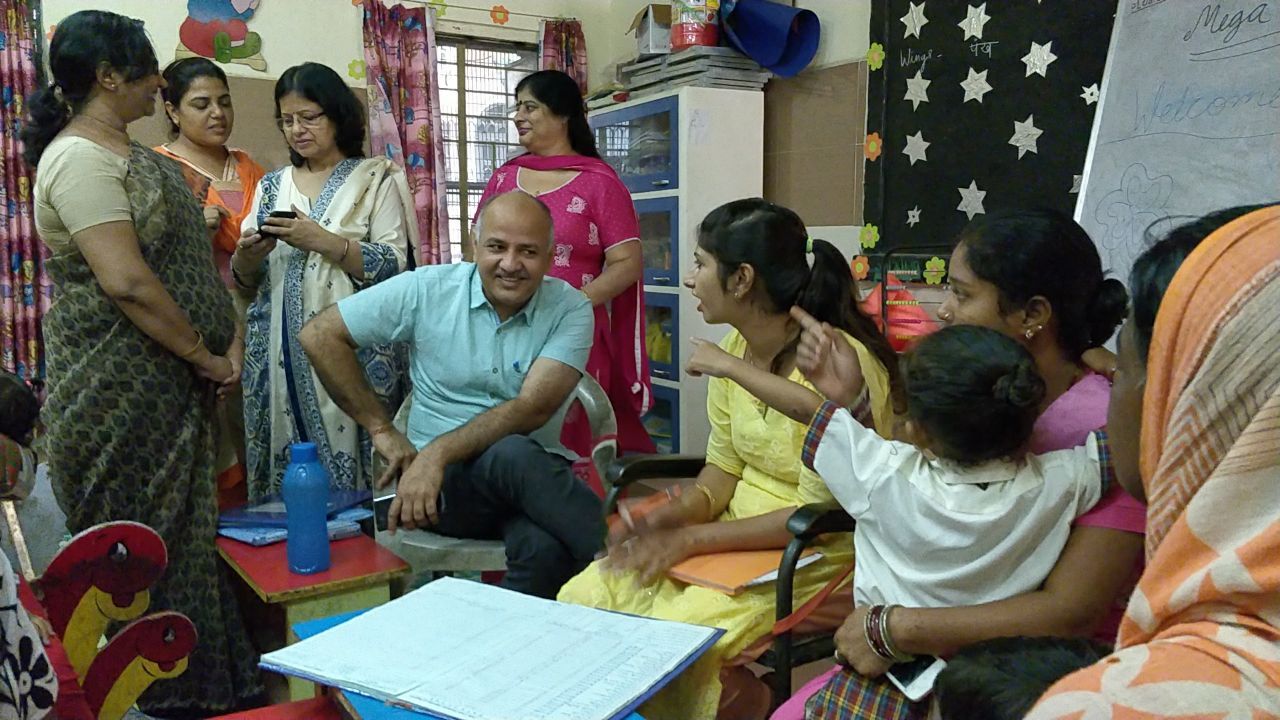 The AAP government successfully organised this year's first Mega Parent Teacher Meeting (PTM) today in all 1041 schools. After introducing the concept in schools the last year, Mega PTMs have assumed an important platform for interaction between teachers and parents in Delhi's government schools. The turnout of parents and children in today's PTMs across the city was very encouraging.
Deputy Chief Minister Manish Sisodia and senior AAP leader Atishi Marlena visited several government schools in Hari Nagar and Shakti Nagar to interact with parents, children and teachers. After his interaction, Dy CM Sisodia said:
It is evident that the parent teacher engagement which the government aimed to institutionalise through Mega PTMs has been achieved. We are happy that this exercise, which used to be limited to big private schools, has now become an integral part of the culture of government schools. I congratulate all Principals and teachers for making this Mega PTM a success.
दिल्ली में चल रहे #MegaPTMinDelhi के दौरान SKV हरीनगर का निरीक्षण करने पहुँचे शिक्षा मंत्री @msisodia. pic.twitter.com/tsl5QGQOPa

— AAP (@AamAadmiParty) September 1, 2017
What a heartwarming experience it was to witness the parent teacher partnership at today's PTMs in govt schools. #MegaPTMInDelhi pic.twitter.com/panJ1qJJ04

— Atishi Marlena (@AtishiMarlena) September 1, 2017
Delhi government Mega PTMs have attained a special importance in Delhi. The government makes an effort to reach out to parents of children in government schools through FM radio and newspaper ads, in which the Education Minister himself invites parents to schools. Schools are directed to warmly welcome all parents, by offering them refreshments. In today's PTM as well, the festive atmosphere was on display, with school gates decorated and welcome parties of school children placed at school lobbies, to welcome parents into the school.
Mega PTMs have had a tremendous social impact in Delhi. Parents of children studying in government schools now feel a sense of pride that their schools are comparable to expensive private schools. Parents can also freely enter schools to meet and interact with teachers. The Delhi government is committed to transforming government schools, in order to ensure access to quality education to every child in Delhi.
When expressing your views in the comments, please use clean and dignified language, even when you are expressing disagreement. Also, we encourage you to Flag any abusive or highly irrelevant comments. Thank you.