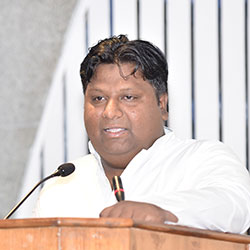 Food & Civil Supplies Department, Govt. of NCT of Delhi in the presence of Mr. Imran Hussain, Minister on Friday signed a Memorandum of Understanding (MOU) with Bharat Electronics Ltd. (BEL), a Public Sector Undertaking under the Ministry of Defence for supply, installation, commissioning along with application software and maintenance of e-Point of Sale (POS) Devices under Build Own & Operate (BOO) PPP Model for distribution of ration to the beneficiaries in Delhi.
Commissioner (Food and Civil Supplies) and Executive Director (National Marketing), BEL were also present on the occasion.
Food & Civil Supplies Department of Delhi Govt. is responsible for effective implementation of National Food Security (NFS) Act, 2013. At present, more than 72.78 lakh beneficiaries are covered for drawing ration as per entitlement in Delhi.
The e-POS Devices will help in bringing more transparency in the public distribution of Specified Food Articles (SFAs). The Devices will ensure that the SFAs reach the beneficiaries in fair and transparent manner. The devices will also help in mitigation of apprehension of pilferage and diversion of food grains. The e-POS machines will be installed at each of the 2300 odd Fair Price Shops and the FPS owners will distribute ration through biometric authentication and weighing machines.
Mr. Hussain termed the decision to install-POS machines as a Game Changer. The Minister informed that with the help of technology the Delhi Govt. will be able to ensure that ration card beneficiaries receive ration in time and in prescribed quantities in fully transparent manner.
When expressing your views in the comments, please use clean and dignified language, even when you are expressing disagreement. Also, we encourage you to Flag any abusive or highly irrelevant comments. Thank you.