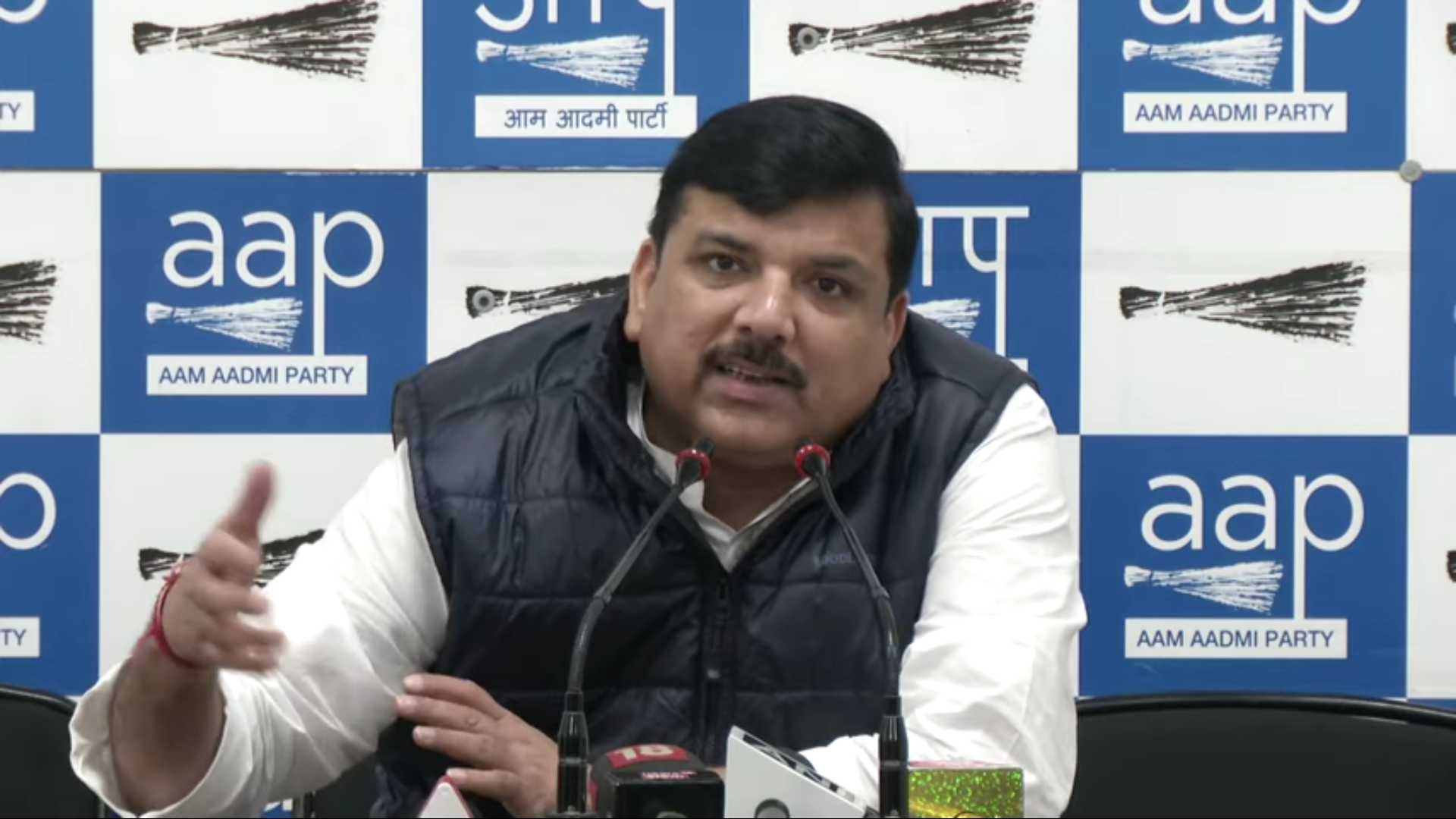 सीएम चेहरा घोषित ना कर भाजपा ने चुनाव से पहले ही मान ली हार – संजय सिंह
दिल्ली के लोगों को उम्मीद थी कि भाजपा की ओर से आज सीएम चेहरा घोषित किया जाएगा, लेकिन निराशा मिली – संजय सिंह
भाजपा के पास अरविंद केजरीवाल के सामने कोई चेहरा नहीं है – संजय सिंह
नई दिल्ली : राज्यसभा सांसद एवं आम आदमी पार्टी के दिल्ली चुनाव प्रभारी संजय सिंह ने भारतीय जनता पार्टी की ओर से घोषित प्रत्याशियों की सूची पर प्रतिक्रिया व्यक्त की। उन्होंने कहा कि आज भारतीय जनता पार्टी ने अपने प्रत्याशियों की सूची जारी की। पूरी दिल्ली की जनता को उम्मीद थी और लग रहा था कि वो बताएंगे कि मुख्यमंत्री अरविंद केजरीवाल जी के ईमानदार चेहरे के खिलाफ उनकी पार्टी की तरफ से मुख्यमंत्री का चेहरा कौन होगा। लेकिन आज भी मुख्यमंत्री के चेहरे को लेकर भाजपा बिल्कुल खामोश रही। इससे बिल्कुल साफ हो गया है कि भारतीय जनता पार्टी दिल्ली में बिना कैप्टन की है। बिना दूल्हे की बारात है। अब एक तरह से साबित हो गया है कि दिल्ली में बीजेपी ने अरविंद केजरीवाल और आम आदमी पार्टी को वॉकओवर दे दिया है। बीजेपी चुनाव लड़ने से पहले ही मैदान छोड़ कर भाग चुकी है। उनके पास कोई चेहरा नहीं है। उनके पास कोई नेतृत्व नहीं है। मुख्यमंत्री का चेहरा बनने के लिए उनके बीच आपस में लड़ाइयां हो रही हैं। सुबह कोई कुछ बोलता है। शाम को कोई कुछ बोलता है। दिल्ली भाजपा में यह काफी समय से चल रहा है। भारतीय जनता पार्टी नेतृत्व विहीन और मुद्दा विहीन पार्टी के रूप में दिल्ली के चुनाव में है। मुझे लगता है कि एक ईमानदार चेहरे, अरविंद केजरीवाल के ईमानदार सरकार और आम आदमी पार्टी को दिल्ली की जनता प्रचंड बहुमत के साथ जिताएगी। भाजपा की आज की घोषणा के बाद यह साबित हो गया है।
*AAP Delhi election Incharge Mr Sanjay Singh's reaction on the first list of BJP candidates for Feb 8 Delhi Assembly elections:
People expected that BJP will decide their CM face for the Delhi elections: Sanjay Singh
BJP has given a walkover to the AAP for the upcoming elections even before contesting: Sanjay Singh
BJP like a team without any captain: Sanjay Singh
NEW DELHI
Reacting to the announcement of the first candidates list by the Bharatiya Janata Party, Rajya Sabha MP and Delhi Election incharge for the Aam Aadmi Party Mr Sanjay Singh on Friday said that the people of Delhi expected that the BJP will decide a Chief Minister face to fight against Arvind Kejriwal led AAP.
"Today BJP came out with its list of candidates for the Delhi Assembly Election. Everyone was expecting that against the honest face and candidature of Arvind Kejriwal ji, they will reveal who their candidate, their CM face is going to be. But even today, BJP stayed quiet on this and this makes it clear that in Delhi, BJP is a team without Captain, a wedding party without a Groom and it has become clear that in Delhi, BJP has given a walkover to AAP and Arvind Kejriwal" said Mr Singh.
He also said that even before contesting the election, BJP has deserted the field and ran away. They do not have a leader and there is lot of infighting among the party on who will be their CM face.
"In the morning there is one statement, by evening there's a different statement, this has been going on for quite some time now. In Delhi, BJP is emerging as a leader-less, a vision-less party. And I believe that people of Delhi will give a huge win and mandate to an honest AAP government under the leadership of Mr Arvind Kejriwal," said Mr Singh.
When expressing your views in the comments, please use clean and dignified language, even when you are expressing disagreement. Also, we encourage you to Flag any abusive or highly irrelevant comments. Thank you.