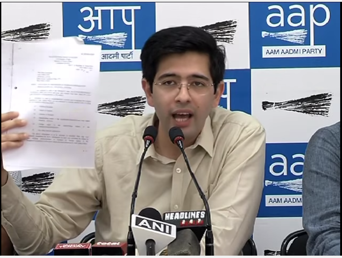 Understand the truth of the funding sources of Aam Aadmi Party, how all the allegations made against the party are bogus, and how the Delhi High Court has given AAP clean chit twice while convicting BJP and Congress of accepting foreign funding illegally. Let's separate the truth from the propaganda.
Propaganda:
BJP and some disgruntled leaders of AAP have accused AAP of receiving Rs 2 crore donations through shell companies or accepting foreign funding.
Truth:
Sanjay Singh, Raghav Chadha and Ashutosh explain the truth behind the funding of Aam Aadmi Party.
AAP's Funding is Absolutely Transparent
AAP demands those accusing us of receiving even a single rupee through shell companies to provide the details of these shell companies. No such details have been provided but mere allegations have been leveled without any substance. The Rs 2 Crore under question were transferred by a Delhi businessman through proper banking channels and necessary submissions have been made to Income-Tax department.

92% of AAP's funding comes through banking channels. Only 8% comes through cash, and as a matter of practice this is also deposited in the bank account which can be easily verified and there is nothing to hide.

All the donations were received via banking channels (cheque) and the PAN card along with the company (Registrar of Companies) was verified. Moreover, Aam Aadmi Party had put this data in public domain on its own, unlike all other political parties.
AAP Investigated Several Times Before; Gets Clean Chit in Courts
Despite probes by the Home Ministry under both the UPA and BJP government, the Home Ministry itself has given the Aam Aadmi Party a clean chit on both the occasions.
Rajnath Singh led Home Ministry submitted in an

affidavit in Delhi High Court

February 2015 that there is nothing wrong in funding of Aam Aadmi Party.
Similarly, in May 2014, the Congress led government told court that it investigated the funding of Aam Aadmi Party and found the

funding to be as per the norms

laid out by laws.
Stop Making Allegations and Investigate ALL Political Parties
Despite having full control over Central Bureau of Investigation (CBI), Income Tax Department (IT), Enforcement Directorate (ED), Intelligence Bureau (IB) and Delhi Police, the BJP government has not found anything wrong with Aam Aadmi Party funding.  
AAP strongly believes transparency of funding of political parties and demands the BJP government to order independent investigation into the funding of all political parties, 70% of whose funds come from 'unknown sources', and let people know the truth.
Senior journalist Vinod Dua explains conviction of BJP and Congress by Delhi High Court for accepting foreign funding illegally.
BJP and Congress Accepted Foreign Funding Illegally, says Delhi High Court
Rattled by this development, the finance minister Arun Jaitley slipped in a hitherto unnoticed clause in the Finance Bill as part of this year's Union budget which

retrospectively amends the FCRA to save both BJP, Congress

from getting derecognized. The new provision is retrospective, and is with effect from 2010, when the FCRA was introduced.
Support Truth, Not Propaganda!
The judgments of the Delhi High Court that gives clean chit to AAP and convicts BJP and Congress haven't been widely reported by media.
It reflects how there is concerted propaganda by BJP, Congress and several media outlets against the Aam Aadmi Party.  
Ask yourself, why? Because we speak the truth and fight for the middle and lower class, not the rich!
Fund Aam Aadmi Party for clean, transparent and pro-people politics and governance. Donate here.  
You can also join our truth team. Write to us at AAPTruthTeam@gmail.com.
When expressing your views in the comments, please use clean and dignified language, even when you are expressing disagreement. Also, we encourage you to Flag any abusive or highly irrelevant comments. Thank you.