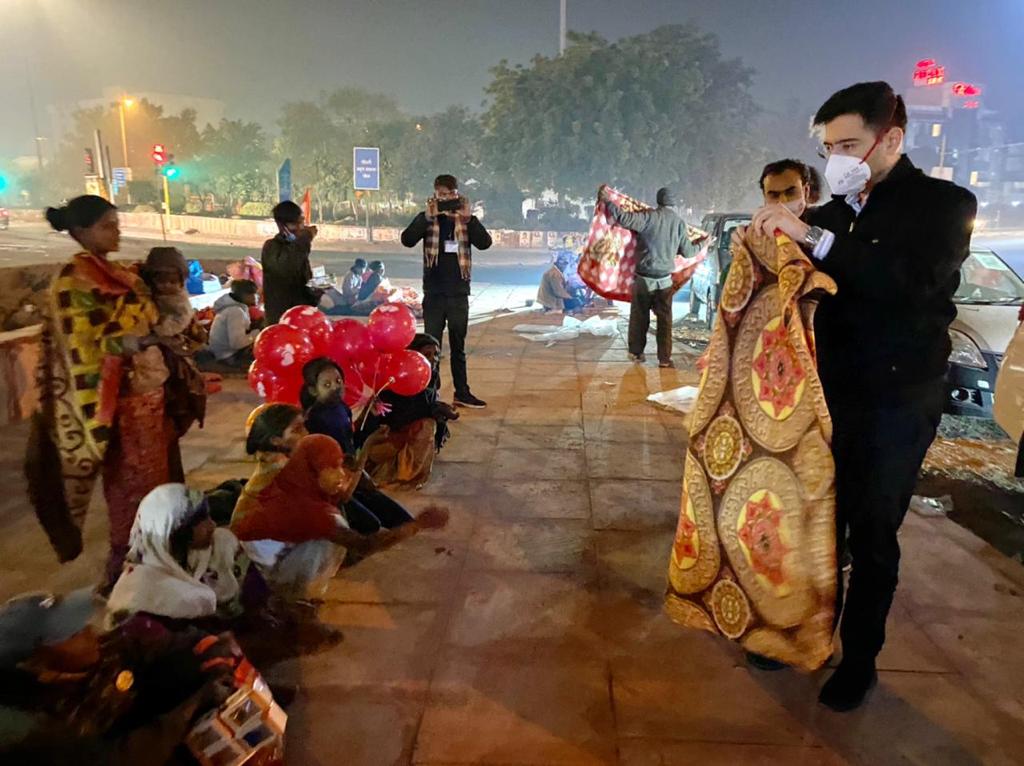 Raghav Chadha, Rajinder Nagar MLA flagged off 'Mission Sahara', an initiative to help and assist the homeless and destitute in his constituency. The mission began last week, with the MLA, along with a designated team from Delhi Urban Shelter Improvement Board (DUSIB), distributing blankets to the less fortunate across Rajinder Nagar constituency.
Different teams of volunteers and the entire cadre of Rajinder Nagar Constituency have been making rounds of the constituency to identify those sleeping on the streets, offering them warm blankets and moving them to a shelter home. Rounds are made during late evenings and nights along with DUSIB vans.
DUSIB runs a 24*7 program that allows residents of Rajinder Nagar Assembly Constituency to inform relevant authorities in order to identify and help the needy. DUSIB also has a mobile application where relevant locations can be marked, which allows for timely and appropriate intervention.
Mission Sahara — Rajinder Nagar's unique initiative
'Mission Sahara' is the latest initiative of the Rajinder Nagar MLA, who has been deeply invested in several development works in his constituency. In the last year, and despite the COVID-19 pandemic that threw the entire country out of gear, Shri Chadha has not let any work be stalled in Rajinder Nagar Assembly Constituency.
Shri Chadha said, "Through 'Mission Sahara', we aim to spread some warmth to those who are in absolute need of it. For many people, each day, each night is a battle for survival. Offering warm blankets and moving them to shelter homes are tiny steps to alleviate their struggle."
This winter has been particularly harsh with lives being disrupted in not just Delhi, but across North India due to continued spells of dense fog and extremely low temperatures. The Met department had earlier stated that La Niña contributed to fall in temperatures.
Shri Chadha said, "'Mission Sahara' is our way of ensuring that nobody has to struggle for basic survival in the bitter cold. Even the Met Department has said that a cold wave is likely to grip Delhi over the coming days. It is my duty to ensure that nobody in my constituency has to be in the throes of this harsh weather. We will continue with 'Mission Sahara' across Rajinder Nagar constituency until the winter eases out".
The Rajinder Nagar MLA has tied up with several agencies in order to better the lives of people in his constituency. "We have collaborated with various agencies to ensure that nobody has to sleep on the streets, nobody has to live without bare minimum warm clothing. It pains me to see some people are compelled to sleep on the streets, on pavements under the open sky. It's harsher given how utterly cold it has been this year. This is why we've begun Mission Sahara, which will be carried forward by the entire leadership of the Aam Aadmi Party in Rajinder Nagar constituency."
What is La Niña
La Niña is characterised by below-normal sea surface temperatures in the Pacific Ocean near the equator, a result of shifting wind patterns in the atmosphere. This means colder-than-normal winter across the Northern Hemisphere and warmer-than-average temperatures in the Southern Hemisphere.
When expressing your views in the comments, please use clean and dignified language, even when you are expressing disagreement. Also, we encourage you to Flag any abusive or highly irrelevant comments. Thank you.