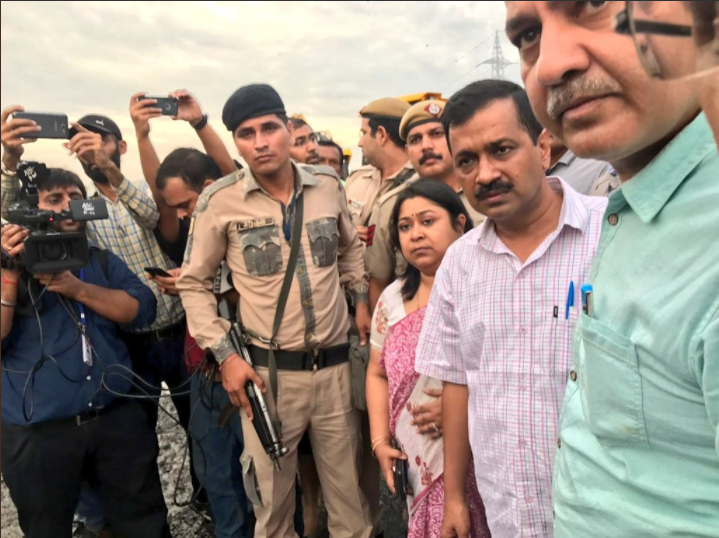 Tragedy has befallen Delhi. A portion of the Ghazipur landfill, in East Delhi, has collapsed killing three people. Delhi CM Arvind Kejriwal and Dy CM Manish Sisodia immediately reached the accident site to oversee rescue operations. Locals informed him of the situation and how the tragedy unfolded. Here is his statement from the site:
MCD की लापरवाही के कारण हुये गाजीपुर लैण्डफिल हादसे पर मुख्यमंत्री अरविंद केजरीवाल का बयान:

Aam Aadmi Party यांनी वर पोस्ट केले शुक्रवार, १ सप्टेंबर, २०१७
This is undoubtedly a man made tragedy and such mindless loss of lives is devastating.
This horrific incident has brought to the fore the harsh realities of Delhi's governance crisis. Delhi's solid waste management is under the Bhartiya Janata Party-run Municipal Corporation of Delhi (MCD). The Ghazipur landfill is over 50 meters in height, and over three years ago, the Delhi High Court had asked the Central government-run Delhi Development Authority (DDA) to provide land for an alternative landfill site. However, the DDA's priorities are unfortunately completely misplaced. Only recently, it allotted land for Union Minister Vijay Goel's NGO for a toy bank, but has refused to allot land to Delhi government for schools, hospitals, etc.
Delhi CM's tweet after visiting the site:
Visited Ghazipur site. Its man made disaster. Criminal. Mountains of garbage. Why doesn't MCD use modern technology to manage solid waste?

— Arvind Kejriwal (@ArvindKejriwal) September 1, 2017
The nature of politics is such that this tragedy will soon be used by the BJP to blame the Aam Aadmi Party government for this accident. The MCDs have been run by the BJP for the last ten years and the DDA has been under the BJP for the last three years. Despite having both relevant agencies under it, the irresponsible leadership of the BJP has been caught napping at the wheel.
Delhi unit Chief Spokesperson of the party, Saurabh Bharadwaj, has summed up the BJP's attempts to deflect blame for the accident, in the following series of tweets:
BJP East MCD Mayor lying on @aajtak about Gazipur landfill deaths,Delhi Govt doesnt control land, its BJP ruled DDA which controls land.1/n

— Saurabh Bharadwaj (@Saurabh_MLAgk) September 1, 2017
BJP's DDA has no land for landfill,Muholla Clinics,DTC Depots,hospitals,Schools. They have land for Vijay Goel and commercial Malls only.2/n

— Saurabh Bharadwaj (@Saurabh_MLAgk) September 1, 2017
Both MCD and DDA are under BJP and LG of Delhi. What is the blame of Delhi Govt ? How can BJP Mayor put blame on @ArvindKejriwal? Shameless! https://t.co/hG3hwFwECv

— Saurabh Bharadwaj (@Saurabh_MLAgk) September 1, 2017
The BJP must be held accountable when such incidents occur. It is unacceptable that the party has been running the MCDs for over a decade, but refuses to take any responsibility for the city's garbage situation. Perhaps this tragedy will wake up the party from its stupor? The BJP's history shows that its unlikely.
The President of Delhi BJP, which runs Delhi's municipal corporations, is BJP MP Manoj Tiwary. If you are concerned about Delhi's garbage crisis and are horrified by this tragedy, please tweet to him @ManojTiwariMP.
When expressing your views in the comments, please use clean and dignified language, even when you are expressing disagreement. Also, we encourage you to Flag any abusive or highly irrelevant comments. Thank you.