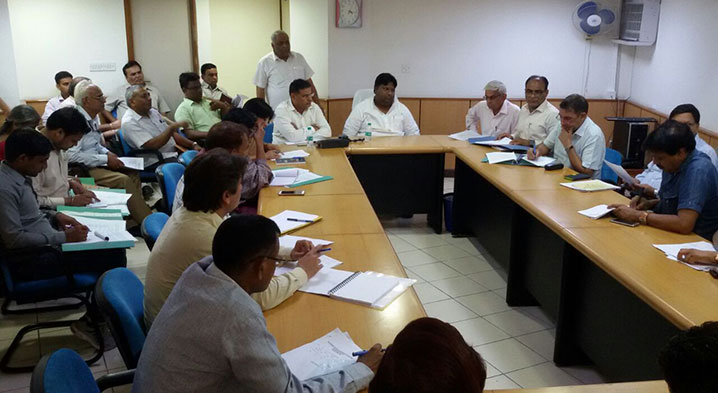 New Delhi: 04/07/2017
Environment Minister reviews plantation target for the current year
Environment and Forest Minister Mr Imran Hussain on Tuesday reviewed the performance of all greening agencies including Forest Department, Horticulture Wing of MCDs, NDMC, DDA, DSIIDC, PWD, Development Department, Irrigation and Flood Control Department, Northern Railways & Delhi Parks and Gardens Society etc.
During the meeting, the targets achieved during 2016-17 were reviewed and targets for the current financial year 2017-18 were also given to the land owning agencies. During 2016-17, approximately 8.80 lakh tree plantations were done.
Forest department has given a target of plantation of approx.11.60 lakh tree saplings and about 9.22 lakh shrubs for the current year.
Agencies were given individual targets and the agencies were also asked to plant additional tree saplings in the current year for covering the deficit if any in the plantation target given for 2016-17. The Minister asked Forest department to regularly monitor the plantation activities by the agencies on monthly basis.
Mr Hussain directed Northern Railways to identify the land parcel available on both the sides of railway track for carrying out tree plantation so that revised target could be fixed.
The Minister asked the agencies to undertake plantation in massive way in the current monsoon season which is the best time for undertaking these activities. Hon'ble Minister also asked the agencies to plant those species which are conducive to the local climate.
The Minister observed that trees play very important role in mitigating the adverse impact of pollution. He stressed that tree plantation plays an important role in controlling air pollution.
He further stressed upon the need for survival and maintenance of plantations by the agencies for which Tree census and third party audit are required to be carried out by the agencies on regular basis.
The Minister accordingly directed the agencies to do the needful in this regard and submit compliance report to the forest department by October, 2017.
When expressing your views in the comments, please use clean and dignified language, even when you are expressing disagreement. Also, we encourage you to Flag any abusive or highly irrelevant comments. Thank you.