Capacity Building of Teaching Staff and Principals
Towards their aim of enhancing the quality of teaching delivery, it has been the constant endeavour of the AAP Delhi government to enhance the skills of the teachers through training on teaching methodologies from premier institutes from across the globe.
This has also created a large number of champions within the education system.
Teacher Training Budget
The total budget for Teacher Training was increased steeply from ₹7.4 cr in 2014-2015 to ₹32.5 cr in 2018-19.
(Source: Pg 16, Delhi & Development Commission of India, Performance Report 2015-2019)
International Exposure for Teachers, Principals and Department of Education staff
International Exposure is given for Teachers, Principals and Department of Education staff to observe and adopt new teaching methods.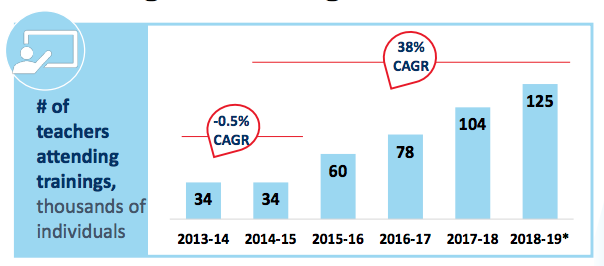 (Source: Pg 16, Delhi & Development Commission of India, Performance Report 2015-2019)
By 2020 (Source: Page 16, Delhi Education Revolution report),
102 HoS, 7 DIET and SCERT faculties and 8 officials of DoE had attended the education leadership programme at Cambridge, UK.
[ HoS – Heads of School; DIET – District Institute of Education and Training; SCERT – State Council of Educational research and Training; DoE – Directorate of Education ]
An exposure visit to Finland had been conducted for 22 HoS, 27 DIET and SCERT faculties and 10 DoE officials to observe their school system.
23 DIET and SCERT faculties, 11 DoE officials and 165 Mentor Teachers had visited

NIE Singapore

to attend mentoring and coaching courses.
Teaching staff come back with a slew of innovative ideas such as 'Flipped Classrooms', reintroducing lesson planning, developing support material, 'think stations', 'Go MAD (Make a Difference)' project and CAL (Computer Aided Learning) labs.
In a flipped classroom, lessons are taught via different mediums like plays or group discussions or videos. Class activities vary but may include – experiments, text analysis, debate or speech presentation, current event discussions, peer reviewing, project-based learning, and skill development or concept practice.
(Source: Pg 16, Delhi & Development Commission of India, Performance Report 2015-2019)
Principal Development Programs
As part of the Principal Development Programme, Delhi government school principals are trained in "Leadership and strategic management for quality improvement in education".
Principals of Delhi government schools have been given high-quality training at renowned and international institutions like IIM Ahmedabad, IIM Lucknow, Cambridge University, United Kingdom, Finland, Singapore.
It is a leadership training, where various aspects of leadership at schools are discussed. This includes how to work with parents, how to work with the school management committee, how to have more innovations among teachers, how to develop teachers and how to work with data. It is all about school management and leadership
Monthly sessions of the Heads of Schools are organised in collaboration with Creatnet Education to strengthen their leadership skills through peer learning.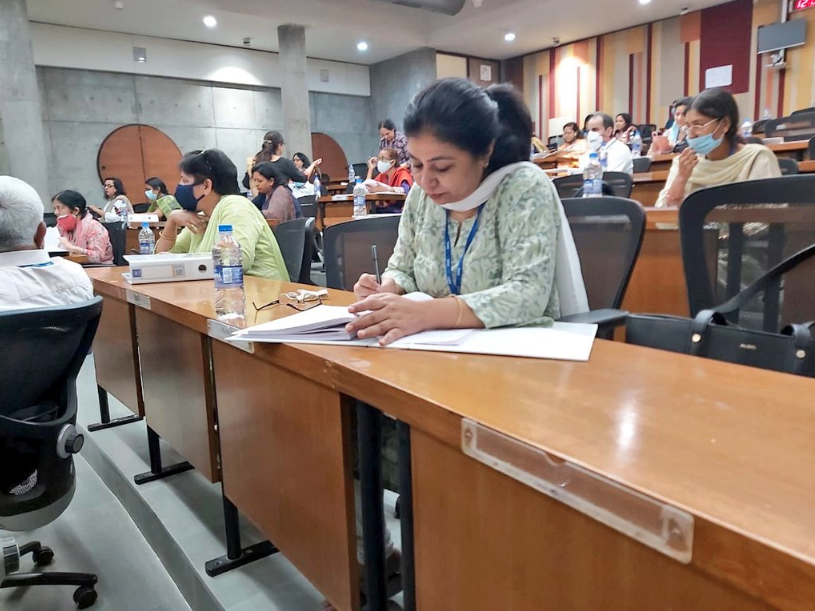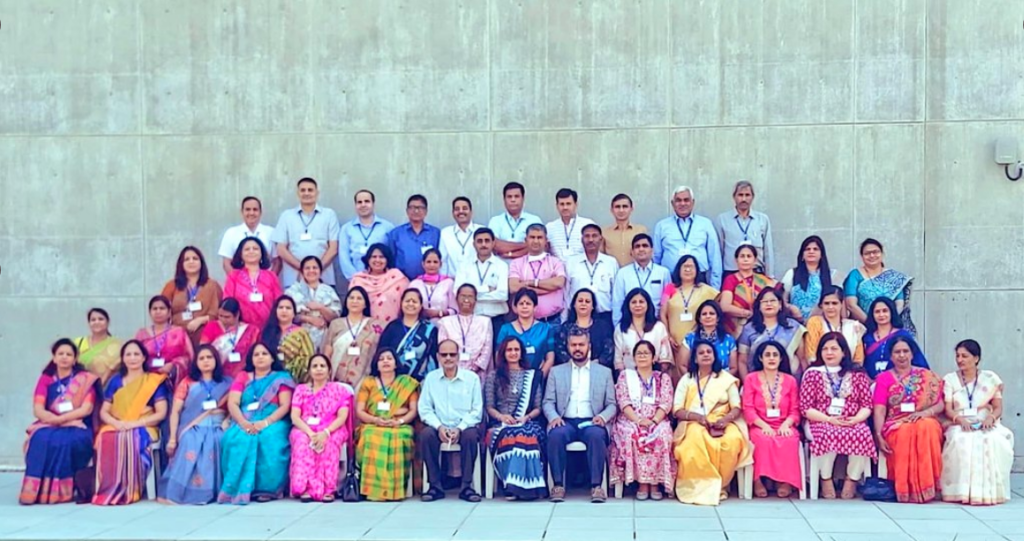 Delhi Government School Principals getting training in 'Leadership for Excellence in Education Training' at IIM-Ahmedabad
(Source: https://twitter.com/AamAadmiParty/status/1451047803740774404?t=kJA30x_4cLJNU9J0zoV34A&s=08)
Fulbright Teaching Excellence and Achievement Program, USA
[ The Fulbright Teaching Excellence and Achievement Program (FTEA) (details of the programme here) is sponsored by the Bureau of Educational and Cultural Affairs, U.S. Department of State.
It is a unique opportunity to develop greater expertise in their subject areas, enhance their teaching skills, and increase their knowledge about the United States.
The program provides academic seminars on new teaching methodologies and strategies, student-centered learning, content-based instruction, lesson planning, and instructional technology training for teachers.]
In 2018 ,

6 Delhi government school teachers

were the

only

Indian teachers to receive the Fulbright Teaching Excellence and Achievement (FTEA) Fellowship for their work in education.
"Proud moment for Delhi. 6 Govt school teachers have got the prestigious 'Fulbright Teaching fellowship' for their work in Education. They're going to join teachers from 40 countries at Washington. Wishing all the best for their enriching international exposure." – Tweet by Manish Sisodia, Delhi Dy CM and Education Minister (Link)
Core Academic Unit
Core Academic Unit (Source: Page 19, Delhi Education Revolution report) is the Research and Development unit which has been introduced to analyse and create innovative tools in Delhi Government schools.
The unit consists of 29 teachers and 1 Principal, and develops assessment tools for classes 3 to 12, to assess children's learning.
It analyses the results to understand the academic performance of students and schools and identifies the areas for corrective actions. The unit also develops question banks and support material.
Mentor Teacher Program
The Mentor Teacher program was introduced in 2016 to better leverage the capabilities of the education system. Supplementary learning materials for the children are created by careful consideration and research. In the first batch, in 2016, 200 teachers served for two years as Academic Resource Group of the Directorate of Education to cater to this.
The mentors teachers go to schools for on-site support and monitoring of classroom practice, and aid fellow teachers in innovative teaching methodologies. Each teacher is assigned five-six schools s/he will have to regularly visit and meet fellow teachers.
This has been pivotal in supporting the implementation of various programs like Mission Chunauti and Pragati.
Even during the Covid pandemic, in-service training was given to 91,663 Teachers & Vice- Principals by SCERT in 2019-2020. (Source: Status report of Outcome Budget 2019-2020)
Teacher Development Coordinator Program
The Teacher Development Coordinator Program was launched in Oct 2017. It took the Mentor Teacher concept another step further. Senior teachers will help shape the agenda for teaching in Delhi government schools, while creating a platform for peer learning among all Delhi government school teachers.
The program (Source: Page 14, Delhi Education Revolution report) is to facilitate sessions for teachers where they can explore new ideas and processes of learning, share their learning and experiences of the classroom with each other, and provide feedback to other teachers based on observations with the focus of improving teaching across the schools.
Special Educators
By 2020, the Directorate of Education had partnered with 11 NGOs (working in the area of special education and recognized by the Government of India) to train 764 special educators/teachers of Delhi Government schools.
Hands-on training of Special Educators was done to facilitate inclusive education and to strengthen the functioning of Children With Special Needs (CWSN). (Source: Page 17, Delhi Education Revolution report)
The program also enabled the teachers to gain an insight into each disability which helped them guide and counsel the students' parents.
State Teachers' Awards
The AAP Delhi Government honours the talents of teachers.
State level recognized titles of the 'Talents of Department of Education' or 'Talents of DoE' are given for their exceptional work in respective fields. Medals and awards are presented to them in the capital.
Funding for teachers for courses in Top 100 Universities of the world
On Teachers' Day 2021, the AAP Delhi Government announced that it would fully fund those Delhi government school teachers who get selected to pursue prestigious courses in the field of education from the world's top 100 Universities.
Estate Managers
The AAP Delhi Government introduced Estate Managers in Government schools to monitor sanitation, upkeep, repair and maintenance of the schools.
This frees up the school Principals' time to focus their time and energy on the school's academic matters. Estate managers use an Android app to report their findings which is regularly monitored through customised dashboards by the officials and the Deputy Chief Minister himself.
Android App for Estate Managers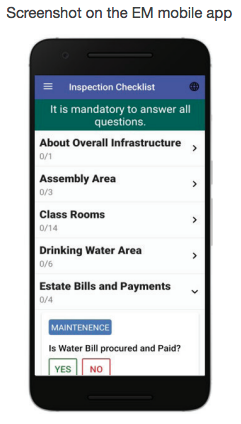 (Source: School Education Reforms in Delhi, 2015-20, BCG)
School Management Committees (SMCs)
School Management Committees (SMCs) build strong school communities, and make school administrations accountable.
Delhi government empowered the School Management Committees (SMCs) through Parental involvement. SMCs were reorganized through elections of Parent Members. School Management Committees (SMCs) were formed in 1024 schools with

free and fair SMC elections.
Each SMC has 16 members:
12 parents
the Principal
a teacher
a representative of the MLA
a social worker
The SMC is headed by the Principal or Head of the School (HoS).
Regular training of SMC members is conducted.
(Source: School Education Reforms in Delhi, 2015-20, BCG)
The AAP Delhi Government approved School Management Committee (SMC) funds for government schools in a bid to empower them further, to 'lessen bureaucratic red tape' and to encourage new initiatives and proper maintenance.
The SMC Fund (that can be autonomously utilized by the school) was

increased from ₹5000 to Rs. 5 lakhs

so that the schools can engage experts to deliver lectures, send students to participate in sports competitions and science exhibitions, organise teacher training workshops, and for small maintenance works, without waiting for approval and funds from the education directorate.
An SMC app was introduced to help schools and parents directly connect with decision-makers.
SMCs organised Reading Melas, streamlined the admission process and ensured attendance of irregular students.
Mega Parent Teacher Meetings (PTMs)
​​The Mega Parent Teacher Meeting (PTM) in the Delhi government schools was launched in July 2016 after the Aam Aadmi Party came to power in Delhi, and are held regularly.
SMCs organize

Mega Parent Teacher Meetings

to bridge the communication gaps and develop a strong relationship between parents and teachers.
During the PTM, Education Minister Sisodia and Chief Minister Arvind Kejriwal also visit the schools and take feedback from the parents and students.
According to an SCERT research, it was found that mega PTMs helped 97% of the parents get more involved in the education of their children.
"Parents Samvaad"
In Oct 2021, the AAP Delhi Government launched the historic "Parents Samvad: Let's Talk to Parents" program to make parenting and a dialogue with parents as an active catalyst in the growth of the students of Delhi government schools.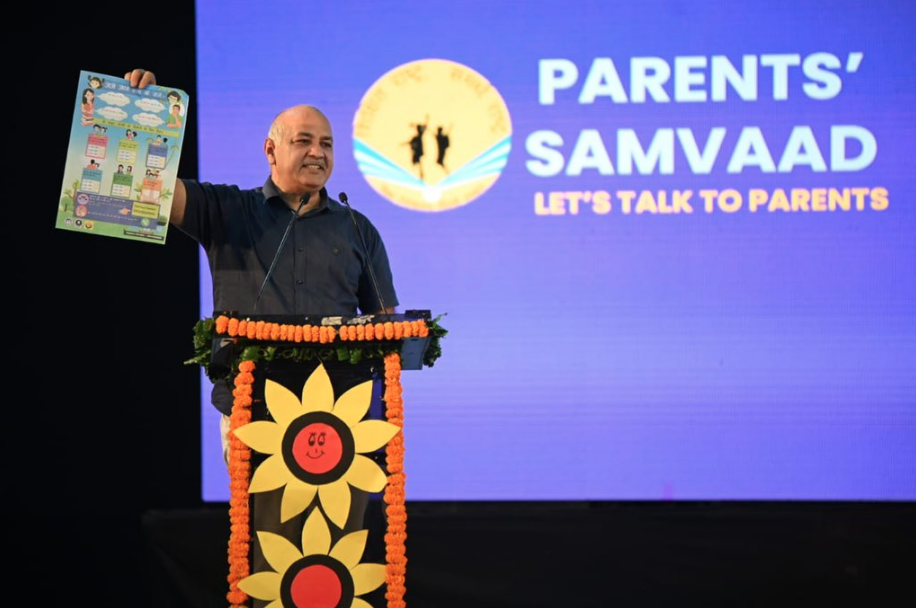 (Source: Tweet by Manish Sisodia, Delhi Dy CM and Education Minister)
"We have a VISION- Before a kid starts his 'schooling', parents should be taught 'parenting'. Workshops should be conducted for Parents before a child enters a new stage of his life. School Mitra program will be a milestone in that direction." – Manish Sisodia, Delhi Deputy CM and Education Minister
Under this program, the plan is for Delhi government's "school mitras" (volunteer parents) to connect with the over 18 lakh parents on a one-to-one basis to bridge the gap between the SMCs and parents.
"There are two kinds of parenting that are common here, which is either zero parenting or over-parenting, and both of them are harmful for overall development of the child. Either parents become bosses for children trying to instruct them rather than guiding or the new generation parents try to become friends, but children need just parents, not bosses or friends. There are separate people to play those roles in their lives." – Manish Sisodia, Delhi Dy CM and Education Minister
Programme goes global: The Parents' Outreach programme in Delhi Government schools is being studied by researchers from University of Glasgow, Tilburg University and Kings College London, as part of their study at KREA University.
Interventions during Covid-19 Pandemic
i) Using technology with human feel: "Learning Resumes"
"Learning Resumes" was launched in July 2020, with in-house content & partnership between parents & teachers
The following modes were used for delivering lessons:

WhatsApp, phone & online mode Worksheet for up to Std. 10
Live classes for Std. 12

Within two weeks, nearly 81% of the likely class 12 batch, with smartphones, were offered registration. Online classes were conducted in 11 subjects by a lead teacher for each subject
The Delhi government now plans to telecast its classes as per the lesson plan of its schools on free-to-air TV channels
A weekly live review by the Education Minister of Delhi with students, parents, and teachers helped in deepening the engagement
ii) Promoting learning & positive parenting practices
These practices were started in April, 2020 following "Every Home a School, Every Parent a Teacher"
For younger children, the approach was aligned with two ongoing programs in schools — Happiness Classes and Mission Buniyaad
Happiness activities supported the emotional well-being of children. Mission Buniyaad involved parents helping children in reading, writing, and basic arithmetic. Information on daily activities sent through SMS and IVR to parents.
Nearly 5.7 lakh parents get these messages every day
Daily viewership of the classes on social media platforms averaged about 40,000.
More Info
Feedback from SMC member, School Mitra and contributor to Parents Samvaad:
When expressing your views in the comments, please use clean and dignified language, even when you are expressing disagreement. Also, we encourage you to Flag any abusive or highly irrelevant comments. Thank you.