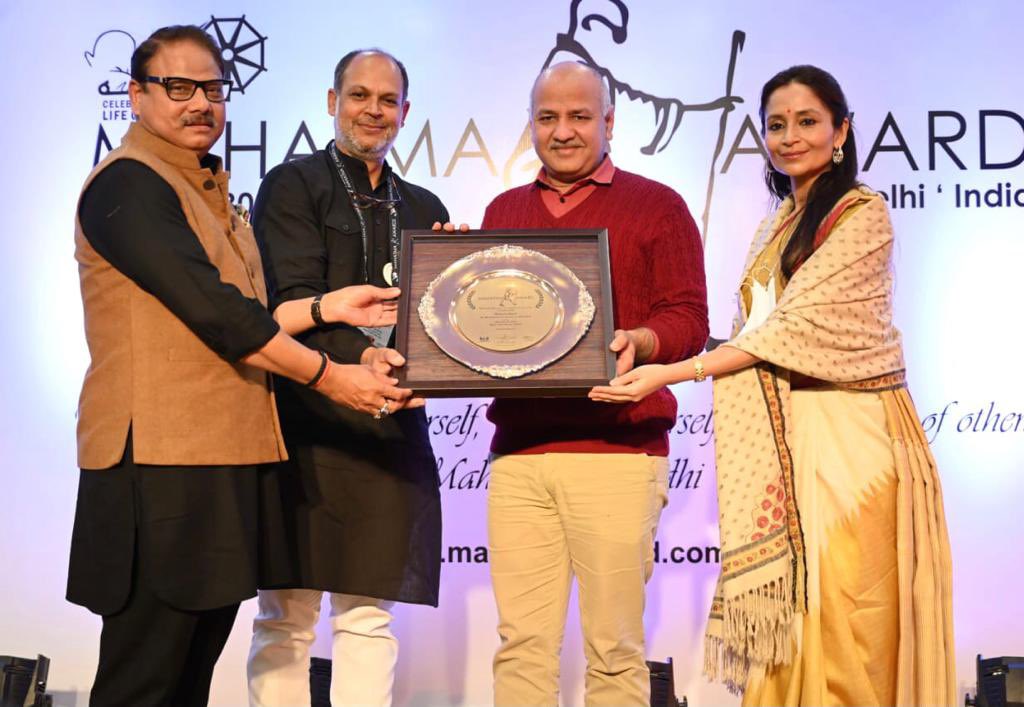 Deputy Chief Minister Manish Sisodia was awarded the Mahatma Award for Promoting Excellence in Education. Deputy CM Sisodia said that Mahatma Gandhi played a crucial role in the independence movement by involving the people with privilege in the service of disadvantaged people. Today, that role is being played by the folks involved in Corporate Social Responsibility (CSR) following the Gandhian principles. He was speaking as the Chief Guest at the Mahatma Award ceremony held on 73rd death anniversary of Mahatma Gandhi.
Mahatma Award is instituted by Aditya Birla Group to celebrate the work of social impact leaders and change makers. Mrs. Rajashree Birla and Mr. Ratan N. Tata have been some of the recipients of this award in the past. The other awardees this year included Mr Azim H Premji, Founder Chairman of Wipro and Shabana Azmi, Indian actress among others.
Deputy CM Sisodia said that next year we will be celebrating 75th Independence Day. It's unfortunate that the very next year we will have the 75th death anniversary of Mahatma Gandhi. What's even more unfortunate is that even in today's India there are people who are subscribing to the ideology which killed Mahatma Gandhi.
Deputy CM Sisodia acknowledged that quite a lot of work has happened in improving the education system since our independence. But he said that it's unfortunate that the current education system caters to only 5% of our students. These students have become highly capable after passing out and earned accolades across the globe. However, we have still not been able to cater to the rest 95% of our students. We have not been able to set a minimum benchmark of quality education in our country because of which many of our students are deprived of quality education. Delhi government is working towards setting up a minimum benchmark for quality education for our schools.
Deputy CM said that Gandhiji had dreamed of a strong and prosperous India, and as per him education had to play an important role in shaping that dream. Today, Delhi government under the leadership of Chief Minister Arvind Kejriwal is working to fulfil that dream. In the last 4-5 years, we have worked a lot to establish strong foundation for education in Delhi. A lot of work is still to be done and Delhi government is committed to work for it.
Deputy CM said that today, Indian students dream of going to foreign universities like Harvard and Oxford. We should rather pledge to strengthen our education system in a way that students from countries like US, Japan and Britain aspire to study in India. The day we can do this, we will be able to fulfil the dreams of Mahatma Gandhi and India will become a true global leader.
When expressing your views in the comments, please use clean and dignified language, even when you are expressing disagreement. Also, we encourage you to Flag any abusive or highly irrelevant comments. Thank you.