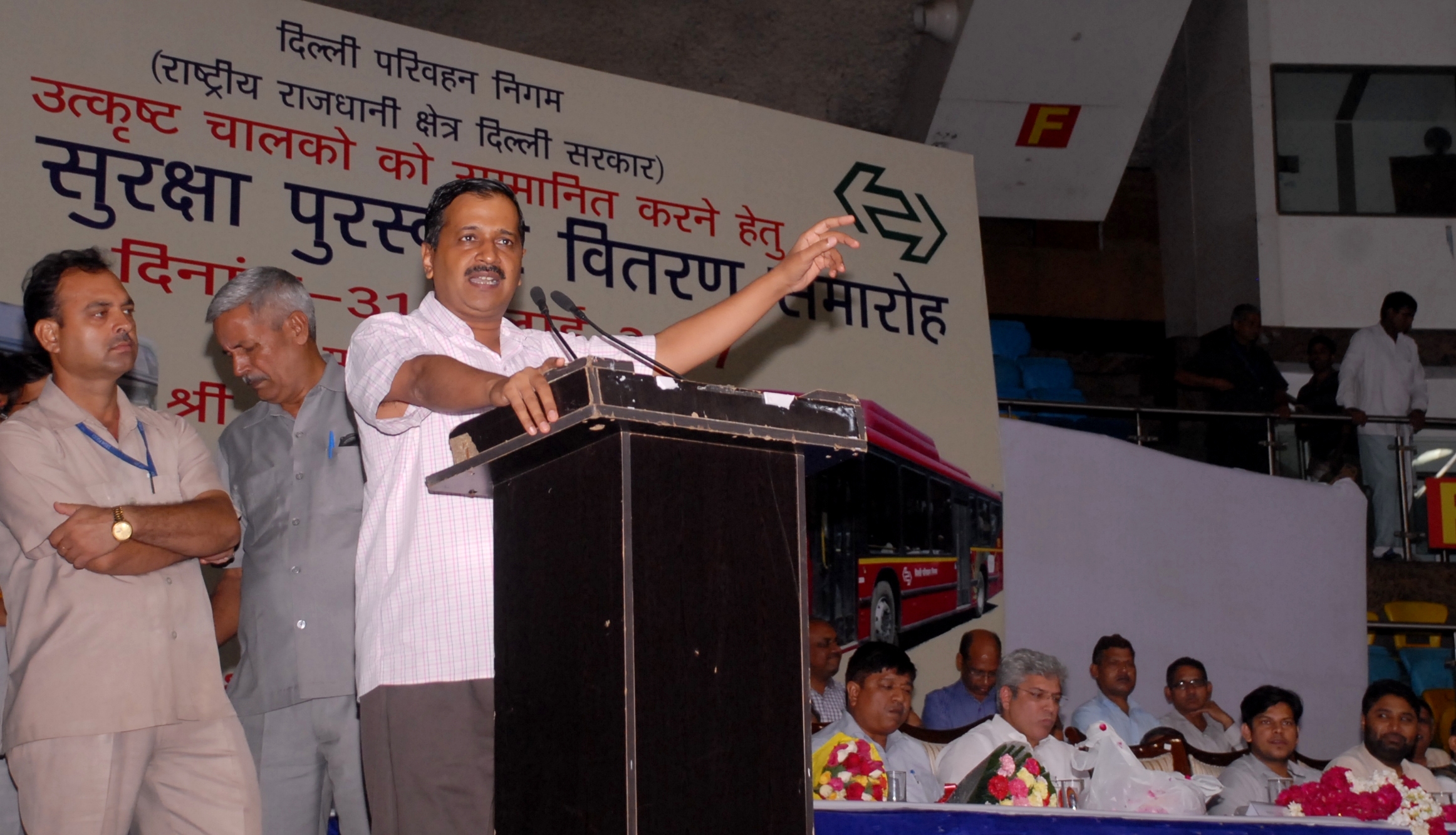 DTC will be converted into the World Class, most advanced and modern Transport Service soon- Shri Arvind Kejriwal
Annual Road Safety Award Distributed by Chief Minister at Talkatora Stadium.
37 Drivers for Safe Bus Driving and 15 Ex-employees of different posts were rewarded for their excellent services to the Corporation.
While 37 drivers were awarded by Chief Minister at the main function out of total number of 635 Drivers, selected for the safe Bus driving awards, the rest of the Drivers will be given at their Depot level.
1000 new Buses will soon  be added to the fleet of DTC – Chief Minister
Delhi Government has approved 7th pay commission to DTC employees, medical facilities to drivers and conductors apart from TA will also be given to them- Chief Minister
Chief Minister of Delhi Shri Arvind Kejriwal today announced that Delhi Transport Corporation will be converted into the most advanced and modern transport service at par with world class transport service. 1000 new Buses will soon be added to the fleet of DTC.  The Chief Minister also announced that the Delhi Government has approved 7th pay commission to all the employees of DTC. The Chief Minister was speaking, while awarding 37 Drivers for Safe Bus Operation and 15 Ex-employees for their excellent services rendered to the Corporation in a function organized at Talkatora Stadium. Total 635 Drivers were selected for the reward and out of them the 37 Drivers were honoured today in the main function held at "Talkatora Stadium", and the rest Drivers will be given these awards at their Depot level. Shri Kejriwal awarded the Drivers and Ex-serviceman with mementoes and shawls apart from citation.
Shri Kejriwal said that DTC is life line of Delhi and Delhi Government will take care of all the Employees of this vast transport corporation. He said that his Government will soon provide medical facilities to its' Drivers and Conductors apart from giving them transport allowance. He sought the cooperation and confidence of all the employees in this regard.
The function was presided over by the minister of Transport, Shri Kailash Gahlot while Minister of SC/ST welfare Shri Rajendar Pal Gautam was the Guest of Honour. A number of MLAs Shri Vishesh Ravi, Shri Rituraj, Commando Surender, Chaudhary Fateh Singh, Shri Jarbal were also present on this occasion.
Shri Gahlot apprised Chief Minister about the problems and Grievances of the DTC employees and appealed him to redress them.
With a view to encourage and motivate the Drivers to ensure accident free operation, Delhi Transport Corporation has introduced the award for its Drivers for accident free bus operation. This award is given to Drivers, permanent or contractual qualifying the criteria.  DTC has formulated criteria for the selection of such Drivers which includes both safe driving and physical presence and operational performance.  A Driver not involved in any fatal accident not declared at fault in any Major or Minor Accident, not involved in any traffic violation/Challan case and also having a overall clean record is eligible for the award.
DTC has been making its continuous efforts to ensure the safety of the passengers and other road users.  To sharpen the driving skills of DTC Drivers, DTC is organizing refresher courses through DTC training school for them on regular basis so that the driver's skill is continuously improved. Further on-wheel training has also been imparted so as to correct the driving habits of the drivers.
DTC is trying its best to upkeep this performance and ensure safe operation of DTC buses for the safety of commuters and other road users.
When expressing your views in the comments, please use clean and dignified language, even when you are expressing disagreement. Also, we encourage you to Flag any abusive or highly irrelevant comments. Thank you.