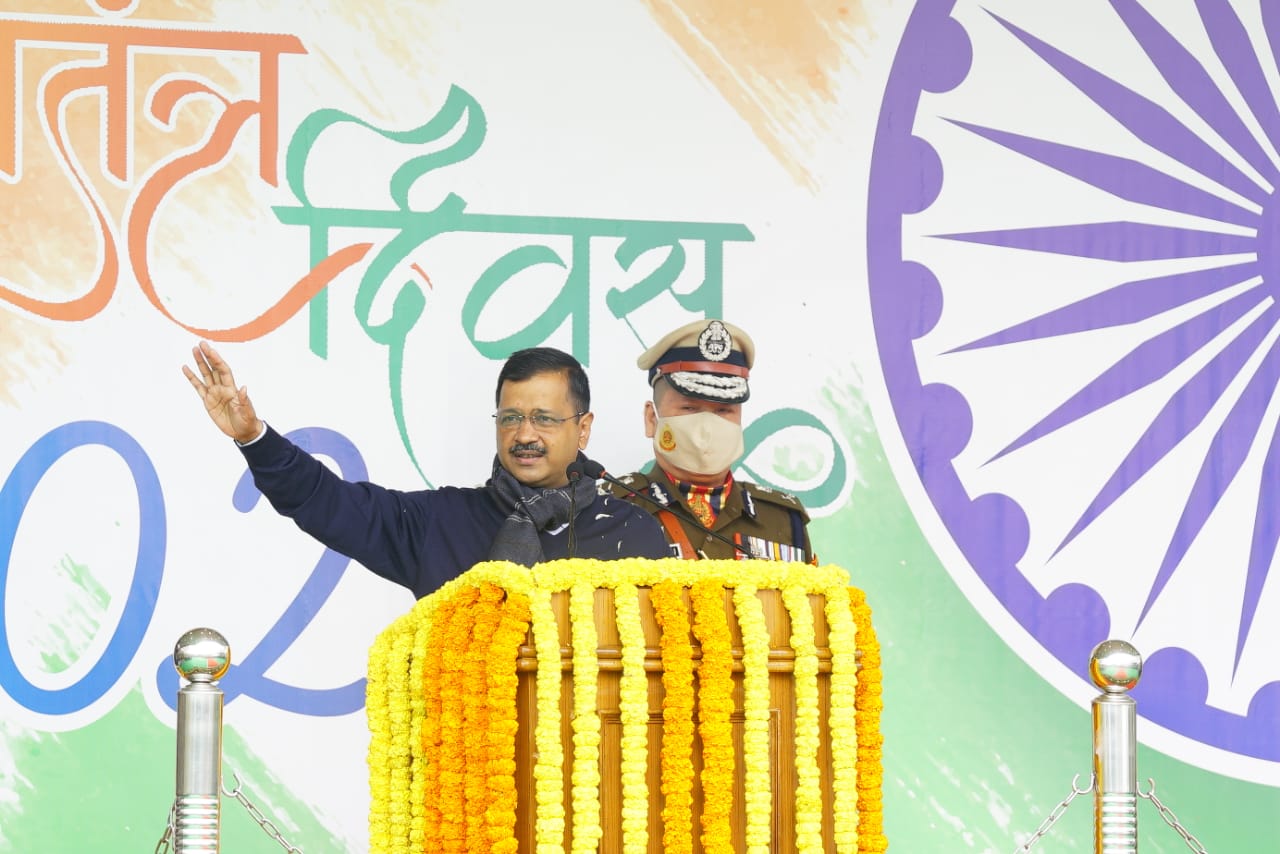 Marking the occasion of 72nd Republic Day, CM Shri Arvind Kejriwal addressed the public at the Republic Day celebrations held at the Delhi secretariat. He commended the contributions and sacrifices made by the Corona warriors during the COVID pandemic and its successive lockdown. He said that the people of Delhi and the Delhi government have collectively strengthened the health infrastructure which is why Delhi's health system was intact even after a severe Corona outbreak, unlike New York where the health system had collapsed completely during the peak. He said that till March this year, the Delhi govt's dream initiative of providing door-step delivery of ration will be launched, which will be a revolutionary step in changing the ration system in Delhi. He said that the Delhi government is working on providing flats to people living in slums and the slum dwellers will be able to have their own pucca houses soon. Even after no tax collection during the pandemic, the Delhi govt continued to provide free electricity and free water schemes and around 38 lakh consumers got zero electricity bills, and 14 lakh consumers got zero water bills in the last billing cycle and like 24×7 electricity, the Delhi govt is working to provide 24×7 safe and clean water to every household in Delhi, he added. He said that every person in Delhi will have an e-health card by the end of this year under our Health Information Management Scheme (HIMS) and the patients will also be able to schedule telephonic/online appointments to avoid queues. He said that Delhi has provided Rs 1 crore as honorary compensation to the families of police officials, army men, and fire service officials who lose their lives in the line of duty.
CM Shri Arvind Kejriwal said, "Congratulations and best wishes to the people of Delhi and the country on the occasion of Republic Day. For the last year, the Delhiites and the people of the country and the world are grappling with Corona virus. And so, we are celebrating the occasion like this today, just like the way we celebrated Independence Day last year. If not for Corona, we would have celebrated the occasion at Chhatrasal Stadium along with our families and children. I hope that this year, we are relieved of the Corona pandemic."
He said, "The last year has been very struggling for the people and the governments. It was a lot more difficult for the Delhi government because Delhi saw a very advanced phase of the pandemic. On November 11, there were 8500 Corona cases in a single day, which were the highest in any city across the world. No city had witnessed these many cases in a day. However, there are various reasons attached to why this happened in Delhi, including how people come from other states to live in Delhi because it is the capital of the country. But the way the people of Delhi countered the situation successfully. In the first week of April in New York City, there were 6300 cases, and we had 8500 cases on November 11. Though the cases in New York were lesser than us, you all must have seen on social media how the entire health system of New York collapsed during the outbreak. The hospitals were fully equipped and patients were in queues outside hospitals. There was no space, the patients were lying in corridors as there was no space in the ICU. Not only New York, but you can also look at how the health systems of almost all major developed cities across the world collapsed. Even after witnessing 8500 cases in a single day, Delhi had 7000 vacant Corona beds in its hospitals. There were no patients lying in the hospitals or roads. The people of Delhi and the Delhi government have collectively strengthened the health infrastructure and services in Delhi, our doctors, officers, medical and para-medical staff have done a superior job in the management of the health system, this is the reason why our health system did not collapse even after a severe outbreak. I want to congratulate the doctors, nurses, officers, medical staff, Corona warriors for managing the system,"
CM Shri Arvind Kejriwal said, "This was a tough phase, people lost their livelihoods, jobs, shops, markets, and factories were closed. Even the governments faced a tough time because there was no tax collection and without that, we were worried about how to pay our employees. But in such a difficult time, I am happy that Delhi handled the situation in a stable manner. At a time when people lost their livelihoods and they could not eat, the Delhi government paid their employees and arranged for money from various sources, and provided dry ration to 1 crore people every month. 10 lakh people were provided cooked food every day, the arrangements were made in schools. We deposited Rs 5000 each to the bank account of auto and taxi drivers during the lockdown. Around 1,56,000 auto and taxi drivers received this financial assistance, and no other state government did it. We deposited Rs 10000 each in the bank accounts of around 44000 construction workers. We arranged for food and medicines for anyone in need."
He said, "When the whole world was fighting the Corona pandemic while waiting for a vaccine to tackle it, our doctors took an initiative and gave plasma therapy to the world. In April 2020, plasma therapy trials were started in ILBS and other Delhi govt hospitals. I am extremely proud of my doctors when I say that Delhi's first plasma bank was started on July 2. Since then, two more plasma banks, one in LNJP and the other in GTB have been started. Till today, 4929 people have been administered plasma, which means around 5000 lives have been saved by plasma therapy. We saw health systems collapsing in many developed countries, hospitals and ICUs were full, patients were lying in corridors and roads. When we studied the reason behind the massacre, we found out that every sick patient was taken to the hospital. As a result, hospitals were filled with patients with mild symptoms or who were asymptomatic and serious patients were lying on roads. Our doctors in Delhi initiated home isolation, which was started for the first time across the world in Delhi. We decided that asymptomatic and patients with mild patients will be treated at their homes. Our team of doctors visits the patients' homes, provide them with kits and all necessary information. For the first time in the world, we had provided oxymeters to the patients in home isolation. Every morning and evening, our doctors would call the patients to inqui re about their health. He/she would ask the patients to measure their oxygen levels and on being at a lower side, the patient would be shifted to a hospital as soon as possible for treatment. As a result, only one-two patients in home isolation lost their lives. Until now, around 3,12,425 people have been treated under home isolation. Since Delhi started home isolation, the whole country and the whole world adopted it on the lines of Delhi. If we had not started home isolation, these 3.12 lakh patients would have gone to hospitals and our beds would have been full. It was due to the excellent management of our doctors and officers, that we had 7000 vacant beds at a time when we witnessed 8500 Corona cases in November. Not only did we launch home isolation, but we also provided treatment to the patients in the hospitals. Our government and private hospitals served the people collectively as a team. We learnt from the difficulties faced by other cities are countries across the world. We saw that at many places, the governments passed orders without taking people in confidence, many private hospitals shut their doors and refused to function. Their doctors and nurses refused to work. On the other hand, we passed every single order in Delhi after taking the people in confidence, we made them a part of decision making. The private hospitals supported us fully, I want to take the opportunity today to thank the private hospitals, and the doctors and nurses in those hospitals for being with us. Our government hospitals did a commendable job. A former minister from Uttarakhand, Shri Rajendra Singh Bhandari Ji came to Delhi for treatment and he was admitted to GTB hospital. He gave so many blessings when he was discharged, and left a message for me saying that the doctors and nurses in Delhi are the best and he could not have gotten better treatment."
"Our Corona Warriors did a commendable job during the pandemic. This pandemic poses a lot of questions like the implications of the infection, its seriousness, and the consequences it would have on our families. Our Corona warriors also had the same concerns, but they put their lives at stake to serve the people. To salute the contributions of our Corona warriors, the Delhi government launched a unique scheme wherein, if a Corona warrior, be it CDVs, police, doctors, sanitation workers, lose their lives to Corona, the Delhi government will provide their families with the financial assistance of Rs 1 crore. Around 9 Corona Warriors lost their lives and I personally went to their homes to provide honorary assistance of Rs 1 crore to their families," he added.
CM Shri Arvind Kejriwal said, "This was a difficult time for our government, we had no tax collection. People started having concerns about whether the free electricity scheme would continue, the free water scheme would continue, but with commending financial management, we continued providing free schemes to the people. Delhi has a total of 52 lakh domestic consumers of electricity, and around 38 lakh domestic consumers have received zero electricity bills in the last billing cycle, which equals 73%. In the summers of 2014 before our government was formed, there used to be power cuts for 7-8 hours. In the last 6 years, we have arranged for continuous electricity for the Delhiites, changed tattered cables and transformers. Today, the people of Delhi get 24×7 free electricity, which is like the 8th wonder of the world. Delhi is a state that gets electricity from other states which is expensive. Even after that, we provide free electricity to all. Many states manufacture their own electricity and yet, they have frequent power cuts and provide expensive electricity to their people."
"There are 25 lakh water consumers in Delhi, out of which 14 lakh water consumers have received zero bills in the last billing cycle, which is around 56% of consumers. I have had several meetings with the water department and the Delhi Jal Board is working in full swing to provide 24×7 safe and clean water in the next 5 years. The miracle that happened in the electricity sector will be repeated in the water sector," he added.
CM Shri Arvind Kejriwal said, "A few years back, we had launched a scheme for our brave police officials, brave soldiers, and brave fire department officials, who put their lives at stake daily for others. I have been told that many police officials continue with their duties for longer hours due to a dearth in numbers of police officials. They have to risk their lives to protect us. Our soldiers are protecting us by fighting with the enemies on the borders and risking their lives. Our Bravehearts of the Delhi Fire Services have to do their tough duty if there are fire mishaps, many lose their lives. These people were not paid heed to before our government was formed. I have been told that only a sewing machine was given to their families in case of compensation. We decided that Rs 1 crore would be given to their families as financial assistance in case our officials in police, army, and fire services lose their lives. There is no value of one's life and our Bravehearts are like diamonds. But, their families should feel that they were respected for their services. Since the launch of the scheme, we have given honorary compensation of Rs 1 crore to the families of 19 Delhi Police officials, 6 fire service officials, and 3 soldiers belonging to Delhi."
"A poor person in Delhi has to go to the ration shop, stand in queues, the shops are not open at times and the shopkeepers also behave badly with them. Sometimes, he doesn't get his fair share of ration. I am glad that till March this year, our dream initiative of providing door-step delivery of ration will be launched. People will not be required to come to ration shops anymore. If you have to get 25 kgs of wheat and 10 kgs of rice included in the ration, these will be delivered with proper packing to your home and you will not have to go to the shops and stand in queues. I think this will be a revolutionary step in changing the entire ration system," he added.
CM Arvind Kejriwal said, "Our health department has done a commendable job in the last year. We are going to issue health cards for the people of Delhi this year. You can take this health card to any government hospital, you will have a health ID, you will not be required to carry any documents or medical slips because all your health record and history will be stored in that health card. You will also not be required to stand in queues in the hospitals, you can schedule an online/telephonic appointment with your doctor and you can reach your doctor on time, without having to wait in queues. We will start with government health infrastructure first, including hospitals, mohalla clinics, polyclinics, dispensaries, society hospitals, and later on private hospitals will be added. Our Health Information Management System (HIMS) will be completed this year."
"The Delhi Jal Board is working to clean the Yamuna river. I have convened several meetings with the board and I hope that we will be able to fulfill all the dreams of the Delhiites. All the projects are running on time," added the CM.
CM Shri Arvind Kejriwal said, "The Delhi government is working on providing flats to people living in slums, and I need support from all. In some places, the people living in slums remain a bit hesitant in moving to the flats, I want to appeal to them that you and your family cannot have a bright future in the slums. The Delhi government is constructing flats for you. I have had several meetings with the officials and I hope that we will be able to provide flats to all slum dwellers in Delhi in the coming days."
"I pray that humankind gets relieved from the Corona pandemic so that we get back to our normal lives. The vaccination drive has started and I hope that we will get end the pandemic now that the vaccination has arrived. Our lives will be able to get back on track, and we will be able to work for the service of the people," he added
When expressing your views in the comments, please use clean and dignified language, even when you are expressing disagreement. Also, we encourage you to Flag any abusive or highly irrelevant comments. Thank you.