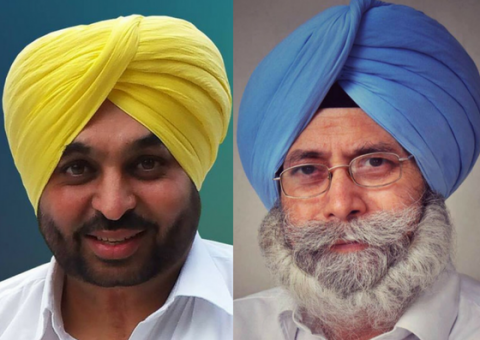 In the recently concluded Punjab assembly election, AAP has emerged as the principal opposition party to the Congress government with 22 seats (including two seats for alliance partner LIP). For the first time in the history of Punjab, the Shiromani Akali Dal has been relegated to third place. The lakhs of voters and supporters of the party are confident that in 2022, AAP is poised to form a government in Punjab.
The Political Affairs Committee (PAC), in consultation with the newly elected MLAs of Punjab, appointed senior Supreme Court lawyer and Dakha MLA HS Phoolka as the Leader of Opposition in the Punjab Vidhan Sabha. Similarly Bholath MLA, Sukhpal Singh Khaira has been appointed as the chief Whip of the party in the state assembly.
In order to infuse fresh life in the party to take on future challenges, the party has appointed Sangrur MP Bhagwant Mann as the Suba Pradhan (Convener) and Mansa MLA Aman Arora as the Seh Pradhan (Co-convener). After taking over, Mann and Arora together announced the dissolution of all wings of the AAP in Punjab, so that a new structure could be built.
Mann said, "The party will reach out to each and every district, block and village in Punjab through its structure in order to apprise the residents of AAP's ideology of providing a corruption free, transparent and accountable administration".
"We will also accord our full support to all those volunteers who have to face vendetta politics at the hands of Akalis or the Congress", said Co-Convener Aaman Arora, assuring supporters, sympathisers and the volunteers.
When expressing your views in the comments, please use clean and dignified language, even when you are expressing disagreement. Also, we encourage you to Flag any abusive or highly irrelevant comments. Thank you.