"Pehli baar kisi Sarkar ne daftar ka ribbon nahi kaata, balke taala lagaa diya"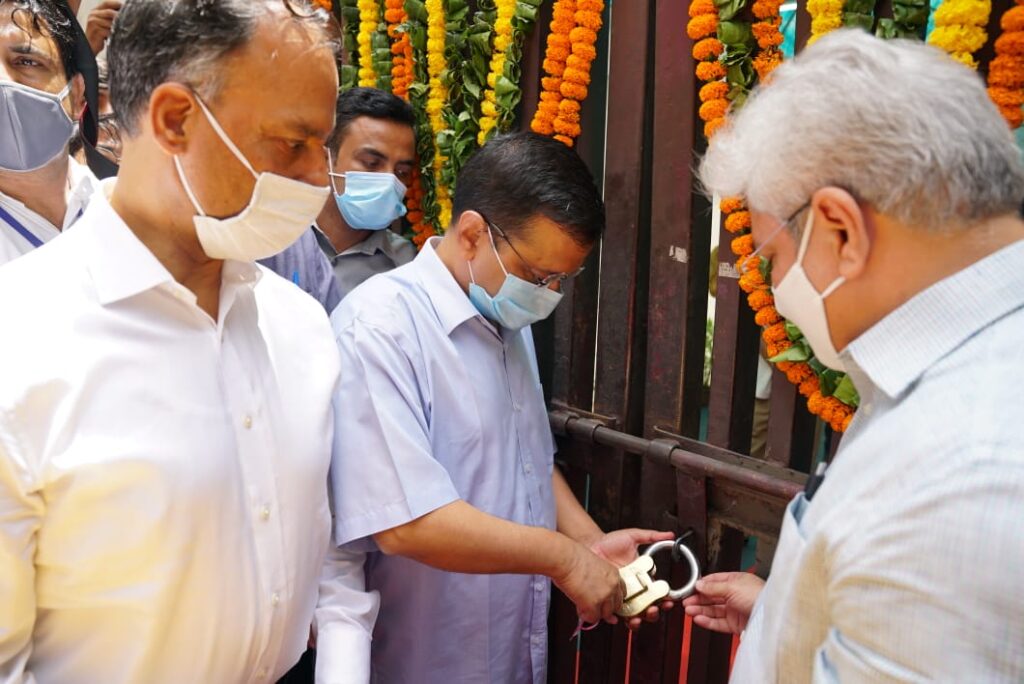 In August, the Delhi Doorstep Delivery Scheme launched by AAP in 2018 saw All Delhi Road Transport Services (except driving test and fitness test of vehicles) being offered 'faceless' and online, ending decades of corruption and inefficiency in Delhi's RTOs.
Delhi citizens can now avail all Transport Services online, including applying for a learner's licence.
NO need to stand in queues, no more bribing and depending on touts to get your work done in Delhi.
This transparent and time saving online process will be hugely beneficial to Delhi's citizens.
The Delhi Government is now a pioneer in providing seamless and hassle-free ways for citizens to benefit from up to 100 Government services, without having to cross their doorstep.
Road Redevelopment Project Launched in Chirag Dilli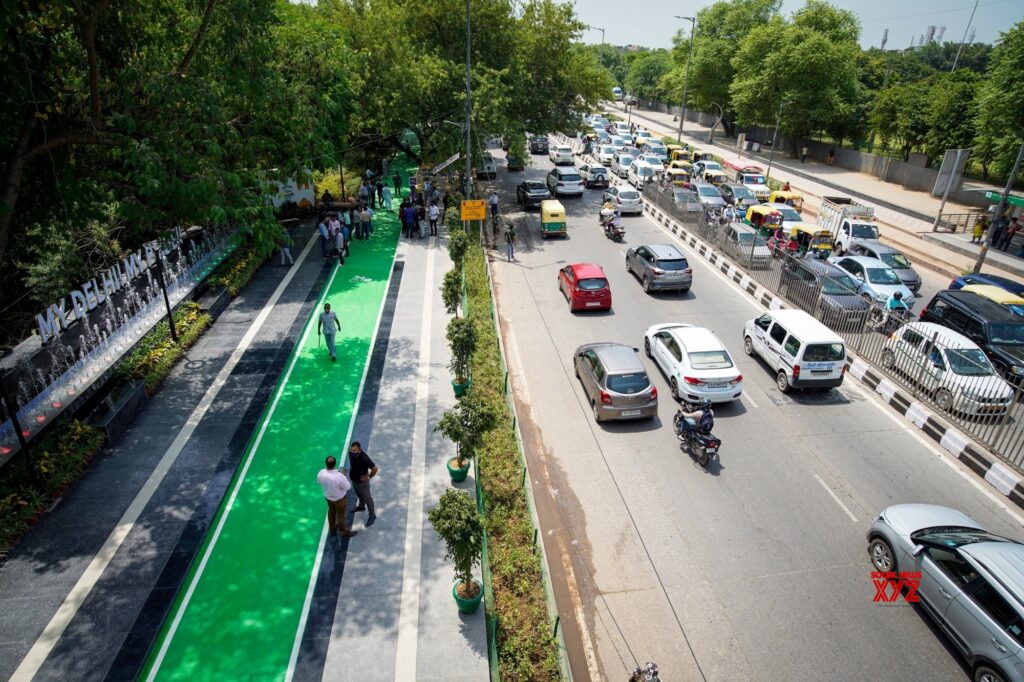 A total of 540 kilometres of roads in Delhi are being renovated in compliance with European requirements
CM Shri Arvind Kejriwal inaugurated a pilot project in Delhi's Chirag Dilli area this month to kick off Delhi's Roads Redesigning Programme. A total of 540 kilometres of roads in Delhi are being renovated. The new system will be rebuilt in compliance with European requirements, and will have:
A standardised lane driving system to reduce traffic congestion, including dedicated lanes for cycling, electric vehicle charging stations, and pedestrian and vendor spaces
A project design intended to remove road dust, resulting in considerable reduction in pollution levels
What do Sonu Sood and OYO's Ritesh Agarwal have in common?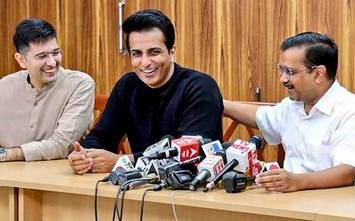 The answer – they and thousands more have signed up to be a mentor to Delhi Government School Children, making this the largest mentorship programme in India. This programme brings professionals and experts to mentor children in government schools in the city.
Shri Sonu Sood is now the ambassador of the AAP Government's Desh Ke Mentors programme.
These mentors are guiding kids on career options, sharing their life experiences and counselling kids to help overcome any obstacles.
Delhi's son Ravi Dahiya's School dedicated in his name
"I call upon every sports person… to come to our Sports University. Delhi will provide you all with the facilities. We will get 70 (Olympic) medals for our country one day" – CM Arvind Kejriwal
This month also belongs to Delhi's own son, Ravi Dahiya, who won Silver in wrestling in the Tokyo Olympics. What is not very well known about Ravi is that he is a product of the Delhi government school system and trained for years at the Delhi Government's Chatrasal Stadium.
Ravi is also a beneficiary of the AAP Government's Mission Excellence Scheme where players from economically weaker sections are provided with financial assistance for coaching and training.
Our nation, and especially the State of Delhi is proud of you Ravi, and we have dedicated the school you studied in, in your name. Felicitating Ravi Dahiya, CM Arvind Kejriwal said "We got seven medals in the Olympics. I congratulate those players on behalf of the two crores Delhiites and thank them for making India proud in the entire world". He added "We have set up a Sports University. This is not only for Delhiites but for the entire country. The first objective is to win a lot of medals in the Olympics and I have full faith that not only the two crore people of Delhi, but the 130 crore people of India will be involved."
Delhi has the highest number of CCTVs in the world
Some of us may remember images from two years ago of Shri Arvind Kejriwal, along with his team, going through great struggles against our own system in order to launch Delhi's CCTV boost programme.
That struggle is now bearing fruit. Ever since the CCTV proposal got the Central Government nod, the Delhi Government has gone on to install more than 3 lakh CCTVs all across Delhi.
A Forbes magazine study recently reported that Delhi now has the highest number of CCTVs per square mile, more than New York, London or Tokyo.
Delhi Government launches portable Mohalla Clinic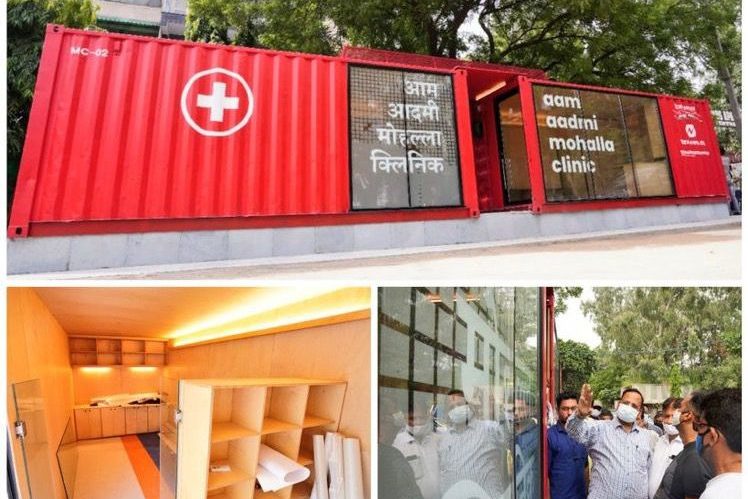 To address the issue of land availability and construction of Mohalla Clinics in congested localities, the AAP Government has come up with an innovative solution – a portable Mohalla Clinic constructed in a shipping container.
Designed to utilize the available space and to cover all medical functionalities and patient comfort, its portability means it can easily be moved from one place to another.
Business Blasters – Creating job providers
"…the only solution to eliminate unemployment…in the country". – Dy CM Manish Sisodia
"A 12th-pass girl Kajal has created her own accounting company and is giving jobs to 20 people, she has a turnover of 15 lakhs," Manish Sisodia explained, while others made masks, taught yoga.
The success of the 6-week pilot Seed Money Project at a Delhi Government School as part of the Entrepreneurship Mindset Curriculum extended into the Business Blasters Programme. Rs. 2,000 is given as Seed Money to 3.5 lakh students from Classes XI and XII to start their own business as part of EMC.
Inauguration of beautified Chandni Chowk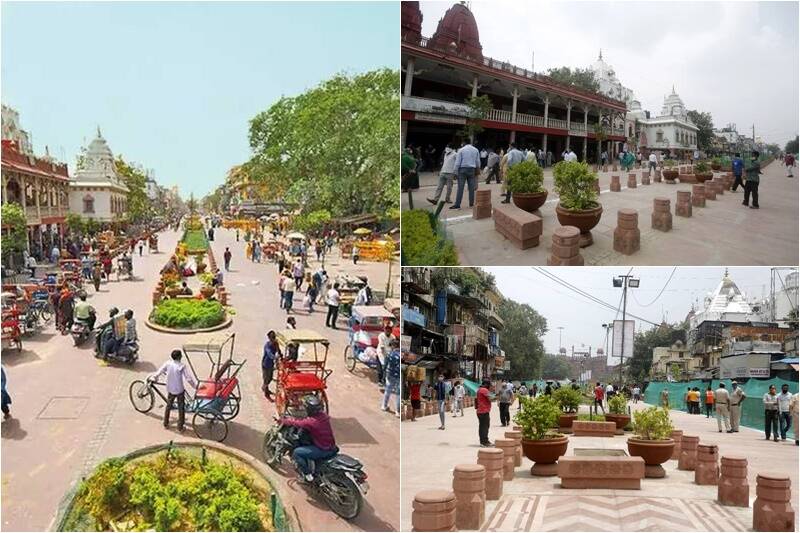 Delhi CM Arvind Kejriwal inaugurated the 1.4 km revamped stretch between Red Fort and Fatehpuri Masjid. Completed at a cost of 99 crores, involving as many as 17 stakeholders, the project was designed to boost tourism and "make public spaces more accessible". It has won praise from commoners and experts alike.
Traffic jams, broken roads and overhanging wires gave way to red granite stone and decorative lights. The new pedestrian-friendly area, where only E- rickshaws ply between 9 am and 9 pm, is now buzzling, with food stalls open late into the night.
When expressing your views in the comments, please use clean and dignified language, even when you are expressing disagreement. Also, we encourage you to Flag any abusive or highly irrelevant comments. Thank you.