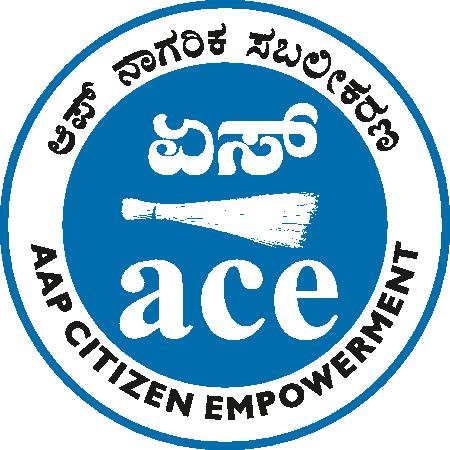 The Karnataka Unit of Aam Aadmi Party today launched a state-wide AAP Citizen Empowerment Programme at Gandhi Bhavan, Bengaluru. A round table discussion on "Government By The People" was held on this occasion which saw the participation of Shri Manish Sisodia, Deputy Chief Minister and Education Minister of AAP Government in Delhi, Shri Pankaj Gupta, AAP Karnataka In-charge, Shri. H. S. Doraiswamy, Freedom Fighter, and Shri Prithvi Reddy, Convenor of AAP Karnataka State Unit. The discussion was moderated by Dr. Ashwin Mahesh and Shri Raghunandan, retired IAS officer.
Covering 5000+ wards across the state, the ACE programme is a unique initiative aiming at empowering common people to claim their rights. The ACE platform has its roots in the principles of participatory democracy at ward level. It operates by considering different dimensions such as involving people, building awareness, training people to use their rights, involving administrative authorities to deliver, and fighting for citizens rights in case of any apathy.
The ACE programme launch and the round table discussion provided a perfect platform for discussions on participatory democracy and citizen empowerment. Eminent individuals across Bengaluru participated in the round table such as Vasant Shetty from Banavasi Balaga, Kathyayini from CIVIC, K. Satish, Revathi Ashok from BPAC, Mukund N and Rajashekar from Civic Action Forum, Vasanthi Hariprakash, Beyond Carlton, Tara Krishnaswamy Srinivas Alavalli from Citizens of Bangalore, Sapna Karim from Janaagraha, Ravichandra from Sangama, Kappanna – a veteran actor, Vinay Srinivas from Alternative Law Forum, and Jayashree – an anti-corruption activist.
The participants of the round table discussion expressed that struggle for democracy and democratic rights in independent India continues. Government by the People is not yet fully realised. The system is ineffective because of the trust deficit among different stakeholders in the system. However solutions lie in active participation of people in the democracy, which requires a paradigm shift. It's time for citizens to participate regularly, not once in five years. In this direction, a proper approach and process should be evolved. Through ACE programme, every citizen shall be trained and shall be empowered to use their rights. Representatives shall deliver the service by being sensitive and listening to people who have first-hand knowledge of their requirements. Power of true democracy is realised only when government delivers services at the door step of every citizen.
Shri Manish Sisodia spoke on current political system and how we have become victims of emotions. Voting by emotions, which involves emotions of language, religion, caste and personal relationships with leaders, has replaced the vote to elect the good. This weakens the democracy. People should learn to vote for policy and reforms agenda of the party and for good candidates without being carried away by emotions. In India, we have leaders who are scared. Scared leaders never transfer their power because by doing so they think that they become weak and vulnerable. However true power of democracy lies in empowering common people by transferring power to them while representatives and officers focus on serving people.
Mr Sisodia mentioned that the AAP government in Delhi had started implementing Swaraj by allocating part of the budget that has to be utilized by holding mohalla sabhas by discussing needs of people in their mohallas. This also includes paying contractors only after the works are verified by the people. This is an example of 'Government by the People'. Here people don't only participate in policy making but are also actively involved in effective implementation.
The politicians in India have become unethical 'puncture-walahs' who not only puncture the vehicles by spreading the nails on road but also open shops to remove those punctures. This way, politicians create problems in the first place and then pretend to be saviours.
In his presidential speech, our beloved freedom fighter HS Doreswamy mentioned that the power of democracy is in self-governance of people who have self-control and never exhibit themselves as goons. He feels the need for a strong alternative politics in place of JCB way of doing politics and wished AAP is going to be one in coming days.
When expressing your views in the comments, please use clean and dignified language, even when you are expressing disagreement. Also, we encourage you to Flag any abusive or highly irrelevant comments. Thank you.