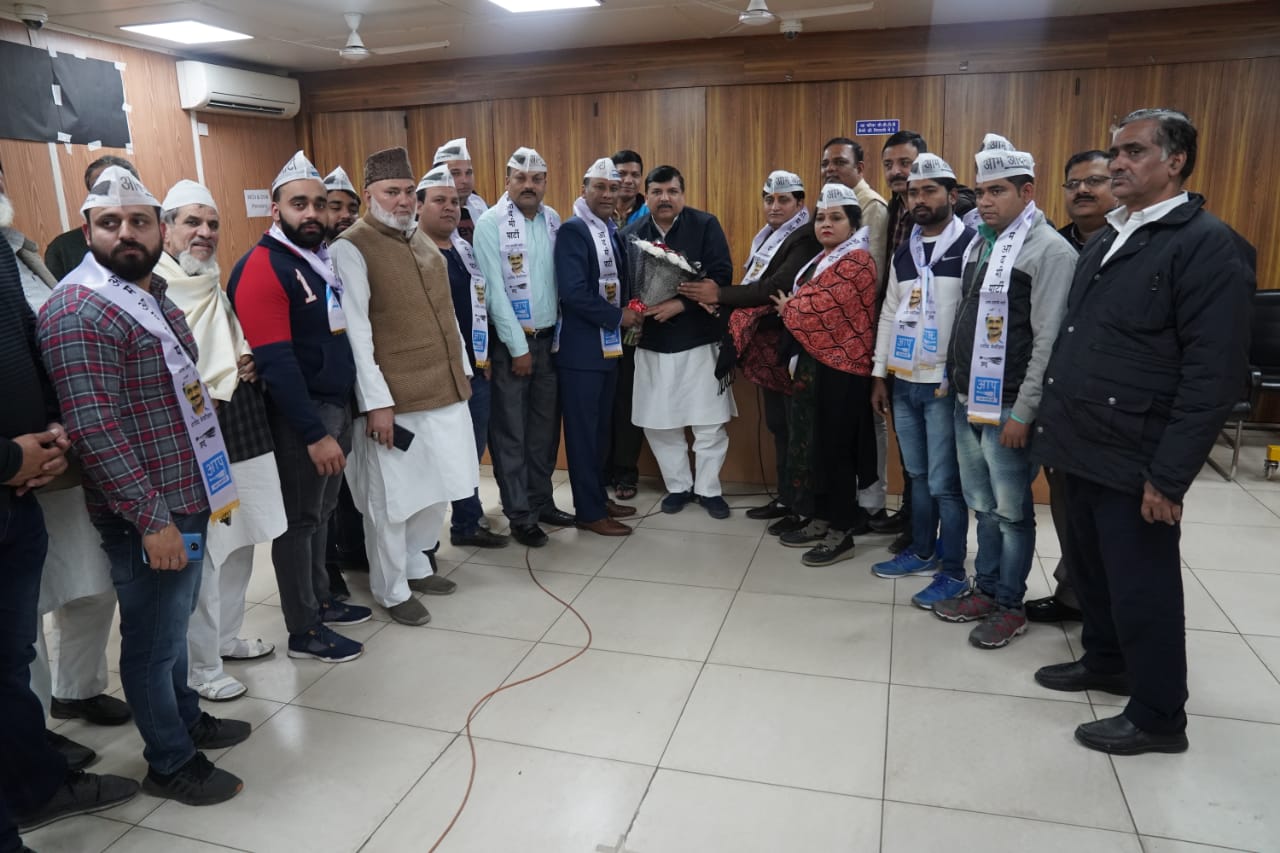 राज्यसभा सदस्य व आप के दिल्ली चुनाव प्रभारी संजय सिंह ने सभी नेताओं को दिलाई पार्टी की सदस्यता
21 जनवरी, 2020
नई दिल्ली: आम आदमी पार्टी में विभिन्न राजनीतिक दलों और समाजसेवी संगठनों के नेताओं के शामिल होने का सिलसिला लगातार जारी है। मंगलवार को भी भारतीय जनता पार्टी व कांग्रेस के दर्जनों नेताओं और उनके समर्थकों को आप के दिल्ली चुनाव प्रभारी और राज्यसभा सदस्य संजय सिंह ने पार्टी की सदस्यता दिलाई। भाजपा व कांग्रेस से आए सभी नेता मुख्यमंत्री अरविंद केजरीवाल सरकार की ईमानदार छवि और पार्टी की नीतियों से प्रभावित होकर पार्टी में शामिल हुए हैं। राज्यसभा सदस्य संजय सिंह ने बताया कि सीलमपुर से विधायक हाजी इसराक खान को अल्पसंख्यक सेल दिल्ली का प्रभारी बनाया गया है। इस दौरान बुराड़ी से आप विधायक संजीव झा भी मौजूद रहे।
राज्यसभा सदस्य संजय सिंह ने बताया कि कई सालों से भाजपा से जुड़े रमेश चौहान ने आम आदमी पार्टी का दामन थामा है। वह भाजपा में जिला अध्यक्ष, महामंत्री और वार्ड के पार्षद रह चुके हैं। दिल्ली के उत्तर-पश्चिम जिले में भाजपा के कद्दावर नेता माने जाते हैं। कई बार वह काउंसलर भी चुने जा चुके हैं। केजरीवाल जी की नीतियों से प्रभावित होकर उन्होंने आम आदमी पार्टी में शामिल होने का फैसला लिया है। उनके साथ भारी संख्या में समर्थक भी पार्टी में शामिल हुए। भाजपा के मंडल अध्यक्ष श्याम शर्मा, पूर्व मंडल अध्यक्ष संजय बजाज, पूर्व निगम प्रत्याशी संगीता बजाज भी पार्टी में शामिल हुए हैं।
इसके अलावा, कांग्रेस के पूर्व प्रदेश सचिव दिलशाद खां, कुलदीप त्यागी, विनोद, दीवान जैन, इदरिश खान, अनीस खान, इसरान, परवेज, अरविंद, यूनूस खान, शमीम, प्रवेश, सहजाद, इस्लाम, हासिम, नफीस खान, महबूब खान, कैफ खान, फिरोज, फैज, इरफान, दिलशाद, आदिल, मोहम्मद आजम, सुनील गुप्ता, दिलीप कुमार, पाल सिंह, फिरोज खान, भूपेंद्र कुशवाहा, मंजू कुशवाहा, अवधेश और राम कुमार यादव आम आदमी पार्टी में शामिल हुए हैं।
इसके अलावा, पटेल नगर विधासभा क्षेत्र से भी कांग्रेस और भाजपा के कई नेता आम आदमी पार्टी में शामिल हुए। संजय सिंह ने बताया कि कांग्रेस से पूर्व निगम प्रत्याशी बबीता शर्मा, कांग्रेस के यूथ ब्लाॅक के अध्यक्ष एंव दिल्ली कांग्रेस कमेटी में डेलीगेट पिंटू शर्मा, दिल्ली कांग्रेस में डेलीगेट व करोलबाग के वरिष्ठ जिला उपाध्यक्ष हरिओम शर्मा, हरिश शर्मा, सुनील शर्मा, शिवम शर्मा, प्रियांशु शर्मा, योगेश शर्मा, नरेश शर्मा, शैलेंद्र, सुधीर कुमार, सौरभ शर्मा के साथ सैकड़ों लोग आम में शामिल हुए।
Many leaders of BJP and Congress join AAP
– Rajya Sabha member and AAP's Delhi election in-charge Sanjay Singh gave membership of the party to all the leaders* January 21, 2020 New Delhi
The process of leaders of various political parties and social organizations joining the Aam Aadmi Party is continuing.
On Tuesday also, dozens of leaders and supporters of the Bharatiya Janata Party and Congress were given membership of the party by AAP's Delhi election in-charge and Rajya Sabha member Sanjay Singh.
"I would first like to inform everyone that Ramesh Singh Chauhan ji, who has been associated with BJP for many years,as District President, Minister, Ward Corporator and has had a long political career, is known as a strong leader in north-east district of BJP, has also been a councillor many times, had had a long association with BJP, but today, impressed by CM Kejriwal's work and policies, and through efforts of Ajesh Yadav, who is our MLA and Fareed ji, and I also spoke to him on some occasions, today he has decided to leave BJP and join AAP. I welcome him and his supporters to AAP from the bottom of my heart. Along with them, Shyam Sharma (Mandal President), Sanjay Bajaj (ex-Mandal President), Sangeeta Bajaj, (ex-Nigam Parshad candidate), I welcome them, they are going to be a part of AAP family. Along with them, Ex-Pradesh Secretary of Congress, Dishad Khan, Kuldeep Tyagi ji, Vinod Ji, Diwan Jain ji, Idrees, Anees Khan, Isram, Parvez Bhai, Arvind Bhai, Yunus Khan, Sameep Khan, Parvez, Sehjad Islam, Hasim, Nafis Khan, Mehboob Khan Kaif Khan, Faiz, Feroz, Irfan and Adil – all of them are also joining AAP. Additionally, Dilshad, Mohd. Azam, Sunil Gupta, Dilip Kumar, Pal Singh, Feroz Khan, Upendra Kushwaha,Manju Kushwaha, Owais, Ram Kumar Yadav, have also agreed to join, I welcome all of them to AAP family," said MP Sanjay Singh.
He also said, "Haji Ishraque, our MLA from Seelampur, has been made In-Charge of Delhi Pradesh Minority Cell of AAP. Sanjiv Jha, Burari MLA, I welcome all. Many people from Patel Nagar Vidhan Sabha are joining AAP. As I had already informed you, the AAP family continues to grow. And today Smt. Babita Kumari is joining this family. She has been a Nigam Parshad candidate twice, from Patel Nagar assembly constituency, Bittu Sharma (Block Youth Congress President, also delegate DPCC), Hari Om Sharma, (delegate DPCC and Vice President Karol Bagh district), Harish Sharma, Sunil Sharma, Shivam Sharma, Priyanshu Sharma, Yogesh Sharma, Naresh Sharma, Shailendra Bhai, Sudheer Kumar, Sourabh Sharma, and hundreds of their supporters, some of those who couldn't be physically present on today, but they are joining AAP, I offer them a heartfelt welcome."
When expressing your views in the comments, please use clean and dignified language, even when you are expressing disagreement. Also, we encourage you to Flag any abusive or highly irrelevant comments. Thank you.